Real-time - Free Download of Related Softwares
1) RMCA Realtime MIDI Chord Arranger Pro 4.2
RMCA Pro is an auto-accompaniment software which offers all major features of a high quality MIDI keyboard.

---
2) Virtual Audio Cable 3.10
VAC is intended to connect several audio applications together in real time. It's like a sound card with hardwired input and output. Thus, you can record and process output of almost any audio application by almost any other audio application.

---
3) AV Voice Changer Software 7.0.29
Change your voice over IP and PC to phone in real time; record voice, voice chat, music; enhance voice; add audio and background effects; compare changed voice with another voice for simulation purposes, create voices for dubbing, morph music.

---
4) TVicPort 4.1
TVicPort is set of general purpose device drivers that allow you to access and control hardware directly from within a Win32 application without using the Windows DDK.

---
5) StockTick - Stock Ticker 2005
Free stock market ticker and portfolio manager to securely track your stocks and trades. Real time and international quotes included in stock ticker. Full featured with no limitations. Use as long as you like.

---
6) SniperSpy 4.0
Do you suspect your child, employee or anyone else is using your remote computer inappropriately? No physical access to the remote PC is needed to install this invisible spy software. Once installed you can watch the screen and view all activities.

---
7) OpenSebJ 0.1
OpenSebJ is a DJ sample music mixing tool; allowing both realtime composition and pre-setup replay. This unique mix makes OpenSebJ a creative and versatile audio tool.

---
8) Hidden Camera 250-in-1 2.18
Employee monitoring software Hidden Camera 250-in-1 is intended for remote control and observation over computers (up to 250 computers simultaneously) in a local network or via the Internet with or without recording.

---
9) ASP - IIS real-time monitor and log 2.60
IISTracer is a real-time monitoring tool for Microsoft IIS scripts (.asp, .cgi,..), static files (.htm,.gif,..) and downloads (.mp3,.zip,..). Lets you show online current state and progress of each running request in IIS. Lets you log IIS state.

---
10) WinMessenger 2.8.03
Simple, smart and very convenient program, fully compatible with standard WinPopup, having a very similar interface, but without all the drawbacks and with emoticons, links, etc. Compatible with any Windows version – from 2000 to 7!

---
11) DownloaderXL 5.9.4
Trading and stock quotes downloading software for Microsoft Excel. You can download historical end-of-day and real time quotes into spreadsheets. Portfolio, stock options, stock charts, intraday.

---

12) DSSF3 Light 5.0.7.x
DSSF3 Light is a highly advanced sound analyzer greatly exceeding the usual FFT analyzer's performance. DSSF3 Light is equipped with the signal generator, the FFT analyzer, the sound level meter, the oscilloscope, and the sound recorder.

---
13) Clic by Blaiz Enterprises 2.00.246
FREE - Generate stunning quality icons in true color (24 bit, 16.7 million colors) with transparency. Screen Capture grabs an icon from anywhere on screen in realtime, or Paste to Fit auto resizes your picture. So simple! Internet authors create

---
14) Optimal Pilot 1.00
Optimal Pilot is designed for optimization of complex 3D models (CAD/CAM/CAE systems and others) for real-time visualization. This 3D reduction and optimization tool will speed rendering and provides enhanced control over a 3D model's visual quality.

---
15) UserMonitor for Classroom or Computer Lab 1.7
UserMonitor assists teachers, instructors or administrators. You can broadcast your screen to other screens, see screens of other users and monitor active programs on other computers. Detect unauthorized software. Write messages. Close any programs.

---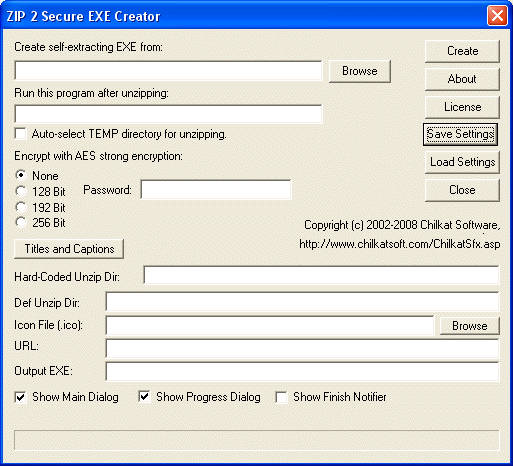 16) Chilkat Zip Self-Extractor 8.1.0
Create self-extracting ZIP files optionally with unbreakable AES encryption.

---
17) Vypress Chat 2.1.8
Vypress Chat is a user-friendly application for real-time chatting in small or home office (SOHO) local networks. Vypress Chat works with TCP/IP network protocol. You get an interface comparable to mIRC's and ICQ-like functionality.

---
18) Serverwatch PRO 3.00
Serverwatch has been under heavy influence ( and still is ) by it's devoted users, making it more and more powerfull after each release. This easy of use application is non expensive and easy way to monitor your entire network from a single console.

---
19) AbszOrb 3D 3.0
AbszOrb 3.0 is a fully interactive real-time 3D game / screensaver / simulation in which users are able to texture, arrange and otherwise manipulate universes of spinning balls that interact and collide spectacularly in real-time.

---
20) Personal Stock Streamer 9.6.3
With Personal Stock Streamer, the active investor can track stocks in real-time; get live technical intraday and historical charts; execute trades; calculate gains; collaborate with groups; all free w/ supported brokerage accounts.

---