Top 2351-2400 Internet Programs (from 9988 category titles)
Order programs after downloads or name (currently are listed after downloads)


2351) ExoSee 1.0.0
Communication system for public or private file sharing

---
2352) IE Pets 1.0.0.1
IE Pets add great new privacy and cleanup features to Internet Explorer through a convenient toolbar installed right into IE. IE Pets bring many common browsing needs together and give you single click ease of use.

---
2353) KazaaIgnite 1.1
A download accelerator for Kazaa.

---

2354) Address Magic Personal Edition 3.0.0.360
Address Magic quickly and easily copies addresses books between many popular e-mail programs, including Outlook, Outlook Express, AOL, Eudora, Netscape, and Lotus Notes. Address Magic preserves all your contact information and distribution lists.

---
2355) Gossip Corporate Messenger 1.2
Gossip ables you to create private and secure instant messaging network, based on client-server architecture. You can send and receive Message, Voice Message,File or Screen Shot or start multi-user Chat Sessions and log messages between users.

---
2356) People Group Master 2.1
Our company offers you a full package for community site development. The given program has been designed specially for easy creation of community agency site. With the help of our program you can create your own community site within 5 minutes...

---
2357) EZY Retriever 1.138
EZY Retriever is an easy-to-use solution that searches web sites and automaticly download the files you specify, wether they be images, multimedia, document or other files.

---
2358) IE++ 2.2
IE++ is a additional Internet Explorer toolbar that increases the usability of the browser and makes web-surfing more comfortable.

---
2359) Happy Aqua-R Slip-down Menu 1.30
Easy-to-use slip-down menu to guide people through your pages. Place it along the top of your site. Uses a fresh-looking Aqua-R theme. Online configuration tool. Supports line-wrapping and many more features.

---
2360) Neovilla Personal Portal 1.27
Neovilla Personal Portal transforms your PC into a secure web portal you can access from any web browser, anywhere, anytime. Access your e-mail, files, music, and applications using your own customizable URL. Easy Setup & No Monthly Fees.

---
2361) Web Optimization Angel 3.70
Web Optimization Angel: Just 10 search engine optimization step to improve your web site search engine ranking. Easy to update any word of your website page, and immediately see it how may affect your web site optimization position.

---
2362) Yaldex StatusTitle Maker 5.1 5.1
It generates JavaScript code to show a message in the status or title bar. You can describe the destination of a link in the status or title bar. Finally, there are 19 controlled effects for status bar and 19 controlled effects for title bar.

---
2363) MessageSave 4.0
Backup, Save and Archive Outlook messages

---
2364) Pluckit 8.8
Pluckit is a Windows program that automatically searches newsgroups for binary attachments. This program seeks out only the messages having pictures, downloads and displays them. Supports yEnc and RAR.

---
2365) Broadband Antispam 1.0
Broadband Antispam is a second generation spam filter which uses your permanent cable, ADSL, leased line or ISDN connection to do more frequent and thorough checking than conventional spam checkers.

---
2366) ABC Amber IncrediMail Converter 2.01
Useful tool that converts your e-mails from IncrediMail e-mail client to any document format. All you have to do is select required messages, choose document format to convert and click Save As button. The software supports more than 50 languages.

---
2367) Haunted Halloween Email Stationery 1.0a
Haunted Halloween email stationery based on illustrations by Dennis Cox features a fun variety of email stationery! Selections include Witch, Pumpkin Spook, Happy Drac and many others. Easy three step instructions for using with your email!

---
2368) Web CEO 4.2
Web CEO is a complete professional suite for search engine marketing, web site maintenance and traffic analysis.

---
2369) Advanced VNC 1.0
This fast, reliable, easy-to-use remote control software saves you hours of running up and down stairs between computers. AVNC allows you to take control of another PC on a LAN, WAN or dial-up connection so you see the remote computer's screen on yo

---
2370) Anti Spam (Professional Edition) 2.0
Anti-Spam Pro is easy-to-use yet powerful software for removing junk emails. It stops the junk or virus emails at the server side so that they won't reach your PC. It provides a rich set of filters to block spams automatically at set intervals.

---
2371) Lyrics Browser 1.0
Lyrics Browser is a lyric themed web browser that delivers easy navigation to song lyrics via lyric databases and lyric directories.

---
2372) PopTray 3.0.2
PopTray is as a little POP3 mail checker.

---
2373) Site Map Pro 2.2
Create a site map or Google Sitemap Protocol XML for any website or for offline CD/DVD use. Site Map Pro will create a self contained HTML file. Place this file on your site to provide full navigation facilities for your visitors.

---
2374) EmFTP Professional 2.02.2
EmFTP Professional is an easy-to-use, high quality FTP/SFTP client. It features SFTP using SSH, Quick Connect Bar, Filter Feature, FTP Fast Transfer using mulitple threads, and automatic permission settings. Certified for Windows Vista.

---
2375) Stunnix Advanced Web Server 1.2
Apache for cdroms! It allows to make from any Perl/PHP/MySQL/SQLite-based site a CDROM, which once put to tray, will run off CDROM and will open in a browser on Windows,MacOSX and Linux. Desktop applications with installer can also be created.

---
2376) vPhonesoft 1.04
vPhone lets you see, hear, send files, SMS, MMS and chat with anyone, anywhere in the world - all for FREE. vPhonesoft allows to place high- quality videoconferences and call from your computer to any phone or cellular at great rates

---
2377) ExtraMail 1.0
ExtraMail 1.0 este proiectat sa gaseasca si sa extraga adresele de email din paginile de web aflate pe internet (folosind protocolul HTTP). ExtraMail 1.0 este foarte rapid si necesita foarte putine resurse.

---
2378) Internet Broadcasting Studio - Free Ed. 1.0.2087
Broadcast music and photos over the Internet ! This software is capable of streaming music and images from a simple PC running Windows XP, using an external web server as a relay.

---
2379) Upload Client Creator for WebNative (Windows) 5.0
A tool for creating unlimited pre-configured upload clients for WebNative servers. A client will upload files and folders to an WebNative server. Files and folders are just dragged and dropped onto the droplet to start the upload.

---
2380) TM-POP3 Server 2.13a
POP3 Server for Windows delivers e-mail fast and fully integrates with Microsoft SMTP server for Windows NT/2000/XP. Supports multiple user mailboxes, multiple domains, remote administration, logging, and security controls.

---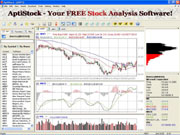 2381) AptiStock 1.03
AptiStock is the FREE stock market analysis software developed for every level of trader.

---
2382) Spy4PC 3.0.0
* Application usage recording * Keystroke recording * Screenshot recording * Email recording * Chat/Instant Messaging recording * Website Recording * Totally Stealth in windows

---
2383) HTML TableFactory 1.1
Powerful and easy to use HTML-tables editor.

---
2384) Ken Mail Server 3.0
Ken Mail Server is a very powerfull bulk emailer. Built to sent hundreds of thousands email at a very hight rate!

---
2385) Spam Vaccine 1.3
Spam Vaccine stops spam by 'vaccinating' email addresses that appear on Web pages. This prevents programs called 'spambots' from stealing your email address and sending you spam. Fast, thorough and compatible with non-javascript browsers.

---
2386) Net Vampire 3.3
A fully automatic FTP and HTTP file downloader.

---
2387) HTML Email Archiver for Outlook 1.7
Archiving messages, contacts, tasks and other items of Microsoft Outlook into HTML or CHM format, publishing Microsoft Outlook folders on the Internet, moving data from Outlook to other software and hardware platforms, including mobile devices.

---
2388) Open Sesame Spam Blocker 1.0.0
Deletes email unless it comes from someone on your list or contains a password. Can reply telling the sender their email was deleted, and give them the password. Spam programs ignore these replies, but real people can resend email with the password.

---
2389) AAADBS WebQuest 1.0
Take the workout of designing multi-page threaded questionnaire forms for the web. WebQuest allows you to quickly put together a data collection system on an ASP platform with minimal effort iusing a flow chart and a few lists.

---

2390) SMTP Watcher 1.0
SMTP Watcher is a tool designed to monitor your SMTP servers. This program is mainly intended for use by web administrators and server administrators. SMTP Watcher sits in the windows system tray and continuously polls your SMTP server.

---
2391) PBEmail 2.2
If you want to enable your Application for Email Sending, without the need of any configuration at all then PBEmail is right solution for you. PBEmail 2.0 is an ActiveX Control and ActiveX DLL to enable programmers to send Emails from the Application

---
2392) Internet Suite 2.2
A powerful offline browser and one of the fastest file downloader available.

---
2393) Undelete NOW! 1.0
Accidentally deleted your files and folders? Undelete NOW! recovers your lost files, no matter how they were erased. Using powerful bit-by-bit scanning methods, you can be sure to get your files back quickly and easily.

---
2394) ProHosting Regulator 1.3
ProHosting Regulator enables the customer to choose any hosting package.

---
2395) R-Mail 1.0
R-MAIL is Outlook Express mail recovery and undelete software designed for recovery accidentally deleted e-mail messages and recovery damaged *.dbx files where MS Outlook Express stores folders with e-mail messages.

---
2396) WebcamMail 2.0
WebcamMail makes the video file very small and easy to transmit even with a 56k modem with an impeccable image quality. The streaming video files created by WebcamMail are Windows Media compatible and can be opened on receiver's computer easily.

---
2397) GroupMAN 1.01.177
GroupMAN (Group Manager) functions as a list-server program and makes it easy to create and manage both announcement mailing lists and interactive discussions on your Windows PC. Using standard POP3 Mail Accounts.

---
2398) iOpus STARR Computer and Internet Monitoring *PRO Edition* 3.27a
All-round, Computer and Internet Monitoring software tool. It allows companies and individuals to track the use of PCs easily and invisibly. It logs screenshots, keystrokes, BOTH sides of a CHAT conversation. With Network (LAN) and email support.

---
2399) AEVITA Web Ranking 1.0
AEVITA Web Ranking lets you view info from the Google and Alexa toolbars, as well as backward links from MSN, Yahoo! and Google all in one toolbar.

---
2400) Internet Access Monitor for Proxy+ 3.2
Internet Access Monitor for Proxy+ is a software for monitoring the efficiency of your company Internet bandwidth usage. Using this product you can easily find out who, when, where to, where from and what accessed the Internet.

---


Browse Pages: [1] [2] [3] [4] [5] [6] [7] [8] [9] [10] [11] [12] [13] [14] [15] [16] [17] [18] [19] [20] [21] [22] [23] [24] [25] [26] [27] [28] [29] [30] [31] [32] [33] [34] [35] [36] [37] [38] [39] [40] [41] [42] [43] [44] [45] [46] [47] 48 [49] [50] [51] [52] [53] [54] [55] [56] [57] [58] [59] [60] [61] [62] [63] [64] [65] [66] [67] [68] [69] [70] [71] [72] [73] [74] [75] [76] [77] [78] [79] [80] [81] [82] [83] [84] [85] [86] [87] [88] [89] [90] [91] [92] [93] [94] [95] [96] [97] [98] [99] [100] [101] [102] [103] [104] [105] [106] [107] [108] [109] [110] [111] [112] [113] [114] [115] [116] [117] [118] [119] [120] [121] [122] [123] [124] [125] [126] [127] [128] [129] [130] [131] [132] [133] [134] [135] [136] [137] [138] [139] [140] [141] [142] [143] [144] [145] [146] [147] [148] [149] [150] [151] [152] [153] [154] [155] [156] [157] [158] [159] [160] [161] [162] [163] [164] [165] [166] [167] [168] [169] [170] [171] [172] [173] [174] [175] [176] [177] [178] [179] [180] [181] [182] [183] [184] [185] [186] [187] [188] [189] [190] [191] [192] [193] [194] [195] [196] [197] [198] [199] [200]