Top 6651-6700 Internet Programs (from 9988 category titles)
Order programs after downloads or name (currently are listed after downloads)


6651) IP2Location Geolocation Web Service (Desktop Application) 2.0
IP2Location Desktop translates IP address to country, city, region, latitude, longitude, ZIP code, ISP and domain name using XML Web Service. Users can perform 90 queries per month using Free account.

---
6652) Mail Notifier Platinum 2.1.002.02
Notifies of new e-mail arriving at multiple e-mail accounts. Mail Notifier Platinum provides system tray notification which appears once you get e-mail on one of your accounts. Supported e-mail types: POP3, Gmail, Yahoo!, Hotmail.

---
6653) GroupLoad 1.0
Get all those MP3s your friends download-automatically. An onlineradio for the Sun JVM is included.

---
6654) MultiLoad 1.0
Load very big files with your friends and merge them afterwords. Every user only downloads a part.

---
6655) Spam Eliminator 2.04
Junk all your junk mail - automatically, while letting your legitimate mail in. Spam Eliminator is an intelligent plug-in: it gives you the greatest and safest anti-spam protection with the combination of filtering and fast content analysis.

---
6656) CruxP2P 3.1
CruX is a peer-to-peer client for Windows that allows you to download any file-type found on several popular P2P networks. CruX is FREE. Simply download it and use it, no strings attached.

---
6657) WinMX Turbo Accelerator 2.5.8
WinMX Turbo Accelerator is a powerful plug-in for WinMX P2P application. Hottest technology applied boost updownloads speed and increase the amount of download sources.

---
6658) TrafficTravis 1.1.2
Traffic Travis Search Engine Optimization Software (SEO) is a leading SEO Software designed to analyze links, build link popularity, add link partners, add reciprocal links to your links pages and gain top search engine ranking in Google, Yahoo, MSN

---
6659) Ez_Testmaker 1
Use Ez_Testmaker to construct custom tests and quizes on any relevant subject that has to do with your website.Increase visits and activity on your website.It works on any Php enabled website.It's also free

---
6660) Security Pro Pack 1.6
Security PRO Pack provides essential tools for privacy protection, a password and sensitive info wallet, and a folder hider. Secrecy File & Folder Hider allows you to hide any folder and keep curious eyes away from your private files.

---
6661) Dc++ Manager 1.2
DC++ Manager is a program for those who use DC++ P2P to download files. It offers a lot of features for managing your downloads such as easy deleting, moving, copying and renaming of files, which are helpful for maintaining your file index.

---
6662) BatchSync FTP 2.0
BatchSync is a reliable tool for automating remote backups, file synchronization, and mirroring over FTP. It is designed to be run scheduled at the server, with extensive logging options and email notifications to help with remote monitoring.

---
6663) Advanced TCP IP Data Logger 2.5.0.43
Do not miss Advanced TCP/IP Data Logger - an all-in-one solution for network data collection and monitoring at an affordable price! Handle your data, adjust it to your needs and store it with ease and speed that you have never experienced before.

---
6664) Lisk CMS 4.3
Lisk Content Management System is a comprehensive user friendly Content Management System. Lisk CMS is a multifunctional system and is a perfect content management solution for any type of website i.e.corporate, e-commerce, community, intranet etc.

---
6665) Hurricanesoft Internet Security 2006 EN 3.1.3
Security software to protect your PC against trojans, hackers and viruses.

---
6666) DeskAlerts - Desktop Alert Software 1.0.3
DeskAlerts - desktop alert software is the easiest way to provide your customers with your news and alerts. This is a small software sits in customer Windows taskbar and pops up window every time you send broadcast message.

---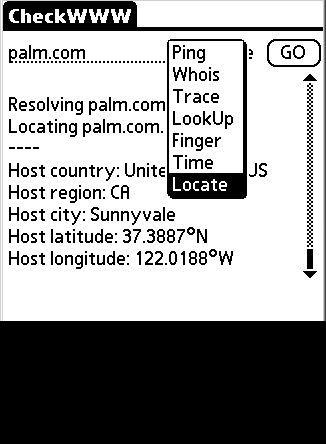 6667) CheckWWW 2.2
CheckWWW is set of network tools useful for diagnosing network and hosts from your Palm. It includes tools like: WHOIS * PING * TRACEROUTE * LOOKUP * FINGER * TIME sync

---
6668) Morpheus Manager 1.2
Morpheus Manager is great and powerful application for Morpheus users. Morpheus Manager handle downloads and organize files (such as for burning to CD/DVD or moving them to another computer).

---
6669) Thumbnail Downloader Toolbar 1.0
An Internet Explorer toolbar for downloading thumbnail gallery sets with one click. It saves each picture with a unique filename while you continue to surf. No need to click each image to save it! A time-saving downloading companion.

---

6670) webALERT 1.01
Is your website Working Right Now? Relax and let your PC watch your website every minute of the day! Accurately tests server response using Active Ping technology,checks DNS resolution and verifies HTTP visibility.Notifies you when your website fails

---
6671) z/Scope TN5250 6.2.0.97
Buy now and get it for only $46! z/Scope Express is a SSL-enabled multi-session terminal emulator for accessing IBM As/400 under Windows platforms. z/Scope Express is Fast, Modern, Secure and Inexpensive.

---
6672) BayGenie eBay Auction Sniper Free 2.6.0.0
BayGenie eBay Auction Sniper Free places bids in the last seconds of auctions. Features: supports 19 countries of eBay interntional sites * supports all time zones * no spyware, pop-ups, or adware * auto update of new versions * ALL FOR FREE!

---
6673) NetJaxer2 2.0
Web 2.0 program launcher and categorized directory of 100's of Web 2.0 application sites.

---
6674) Group Mail Manager Professional 2.6.36
Group Mail Manager is easy and affordable web-based email response, tracking and management software, that allows you to manage, process, and track messages sent to generic email inboxes such as sales, support, and info.

---
6675) Test Mail Server Tool 2.70
Test Mail Server Tool is a full featured mail server (SMTP) emulation to test mail sending capabilities of your web or desktop application and preview mail messages. Mail sent to this tool is automatically stored and opened with your mail client.

---
6676) StocksAloud 1.60
StocksAloud helps you manage your investments and business interests by tracking companies for you. It let's you specify stock information to be read aloud for quick updates or full updates as well as listen to related news headlines.

---
6677) Rozmic Spam and Virus Firewall 1.2
Rozmic Spam and Virus Firewall is an automated security service that protects your Internet communications from spam and viruses. It operates at the gateway level, and scans all traffic entering your network.

---
6678) Remote Script 1.0
RemoteScript allows running scripts, batch files and processes on remote machines. Program push out scripts to a remote computer and execute with specified user account.

---
6679) Surfingcash 1.1.1
Surfingcash by SurfcashSoft is great for helping you make money or gain cash online. You easily manage lots of websites. protect your information.

---

6680) 10-Strike Network Inventory Explorer 1.5
Inventory network computers, create asset database. View hardware and software configuration on the network computers, track changes, generate reports. Find out which processors are running in network computers, how much memory is installed, etc.

---

6681) AXIGEN Mail Server ISP Program 4.0.0
AXIGEN is a secure mail server, available for Linux, for FreeBSD, OpenBSD, NetBSD and for Solaris providing integrated mail services. AXIGEN offers centralized Web/CLI Admin and FREE technical support with flexible, domain based licensing.

---
6682) IA Corporate Email Server 6.1
The Internet Anywhere Corporate Email Server is a high performance, multi-threaded email server which supports IMAP, POP3 and SMTP. It provides everything you need to run a secure and dependable email system.

---
6683) 1-Click Duplicate Delete for Outlook 1.04
Loescht doppelte Termine/Notizen/Mails, usw. mitnur einem Mausklick. Doppelte Kontakte werden nicht einfach geloescht, sondern von alleine zusammengefuehrt - alle Daten bleiben bestehen. Alle Loeschungen koennen per Undo rueckgaengig gemacht werden!

---
6684) Portable Bookmarks 2.0.0.222
Portable Bookmarks is a compact, mobile and browser-independent bookmark manager, that allows you to attach it to any computer via a removable device. It also provides useful tools to manage your database protecting it with a password.

---
6685) Start Live Chat 1.0
Start Live Chat is application for visitors tracking and live chat. The live chat show list of website visitors, and chat operator can view his details. It is a web-based chat, thus you can access to operator console anywhere.

---
6686) Syncura 1.5
Syncura enables document sharing and collaboration over the Internet. It's like a virtual network folder without storing files on a server. Synchronize folders with colleagues and clients. Your files are not stored on anyone's server.

---
6687) Advanced Log Monitor 2.5.21
Log management solution that monitors log files from any program, database or device and notifies you by email when a specific event occurs (Warning, Firewall attack, Hardware failure or anything else).

---
6688) Group Mail Manager Premier 2.6.36
Group Mail Manager is easy and affordable web-based email response, tracking and management software, that allows you to manage, process, and track messages sent to generic email inboxes such as sales, support, and info.

---

6689) Media Mall Toolbar 4.5.131.0
advanced 1-click system toolbar for funny online games and TV , radio channels , shopping offers and discounts in popular online malls also get free gifts offers.Must See

---

6690) DBX Backup 1.1
DBX Backup is an effective solution for making regular backups and restoring your mail. With DBX Backup you can be sure that your mailbox contents will be available after any unforeseeable event like a hardware malfunction or software corruption.

---
6691) Remote Desktop PRO 1.0
Remote Desktop Professional is a tool for network administrators who need access to their servers and desktops without having to be physically near them.

---
6692) Feed A.I. 1.00
Feed A.I. is a feed reader with integrated artificial intelligence which learns what kind of items you like and dislike. When new items are found, Feed A.I. alerts you if it finds items that are likely to interest you

---
6693) TupEnterprise 2.31
An NAT gateway-based EIM (Employee Internet Management) product realizing LAN-independent web monitoring and control. It is coupled with the EIA (Employee Intranet Administration) which monitors and controls the whole activities of individual PCs.

---
6694) Mix2Minion 1.2.0
Mix2Minion is a software suite that lets you send and receive very anonymous mail. You Do Not Even Need An Email-Address! Operating System: Windows (all versions). Reclaim Your Privacy and Increase Your Internet Security!

---
6695) Phoenix UseNet Bot 2.1
The Phoenix UseNet Bot is an application that you can use to download images from your favorite NNTP Server. The Phoenix UseNet Bot uses the latest technology to crawl through a Usenet server and download images from the news groups you have selected

---
6696) Reverse Cell Phone Number Search Tool 1.6.1
Reverse Cell Phone Search Tool - Access owner info, address history, carrier, connection status, and location details for any phone number. Database search includes cell, residential, business, pager, toll-free, and unlisted phone numbers.

---
6697) Ipanto Lite for Cisco IOS DHCP 3.0.1a
IP Address Management software with SQL database and Web GUI to monitor Cisco IOS DHCP Main features - User-friendly and intuitive Web GUI, - 1 user profile with full admin rights, - Reporting (IP utilization and history).

---
6698) 800 Number Reverse Lookup Search Tool 1.02
800 Number Reverse Lookup Search Tool - Get ALL Details On Who's Been Calling. Access to owner information, company registered to the phone number, address history & location, carrier, & connection status. Your search is 100% legal and discreet.

---
6699)
PageRank Anzeige Kostenlos 1.0
---
6700) JSCAPE Secure FTP Server 2.1
Platform independent managed file transfer server that supports FTP, secure FTP (FTP over SSL), HTTP and HTTPS protocols. JSCAPE Secure FTP Server greatly simplifies the process of securely exchanging data with trading partners and automation.

---


Browse Pages: [1] [2] [3] [4] [5] [6] [7] [8] [9] [10] [11] [12] [13] [14] [15] [16] [17] [18] [19] [20] [21] [22] [23] [24] [25] [26] [27] [28] [29] [30] [31] [32] [33] [34] [35] [36] [37] [38] [39] [40] [41] [42] [43] [44] [45] [46] [47] [48] [49] [50] [51] [52] [53] [54] [55] [56] [57] [58] [59] [60] [61] [62] [63] [64] [65] [66] [67] [68] [69] [70] [71] [72] [73] [74] [75] [76] [77] [78] [79] [80] [81] [82] [83] [84] [85] [86] [87] [88] [89] [90] [91] [92] [93] [94] [95] [96] [97] [98] [99] [100] [101] [102] [103] [104] [105] [106] [107] [108] [109] [110] [111] [112] [113] [114] [115] [116] [117] [118] [119] [120] [121] [122] [123] [124] [125] [126] [127] [128] [129] [130] [131] [132] [133] 134 [135] [136] [137] [138] [139] [140] [141] [142] [143] [144] [145] [146] [147] [148] [149] [150] [151] [152] [153] [154] [155] [156] [157] [158] [159] [160] [161] [162] [163] [164] [165] [166] [167] [168] [169] [170] [171] [172] [173] [174] [175] [176] [177] [178] [179] [180] [181] [182] [183] [184] [185] [186] [187] [188] [189] [190] [191] [192] [193] [194] [195] [196] [197] [198] [199] [200]