Others - Business & Finance Programs from 751 to 800 listed after downloads number (from 1730 category titles)
Order programs after downloads or name or date (currently are listed after popularity)


751)
MobilePad 1.0
---
752) Pricelist Analyser 2.03
An annoying aspect from pricelists is the lack of uniformity. This results in the obligation to manually update and/or import the (new) records into your database. This is pure waste.And that's where Pricelist Analyser comes in.

---
753) dncSoftware 4.1.0.0
dncSoftware is an easy to use combined DNC software program for CNC file transfer with a combined text editor for easy CNC editing. You can setup to 32 CNC machines for DNC transfer.

---
754) Personal Antispy 1.3
Personal Antispy can provide every computer with strong protection against most types of unauthorized activity monitoring software, both known and unknown. It effectively finds and removes keyloggers, trojans and other spy software.

---

755) Axon Virtual PBx System 2.11
Axon is a virtual IP PBx for Windows PCs featuring a one click installation setup and a web management console that makes configuring your new PBx easy. Axon offers all the normal features of a traditional PBX. Set it up in your office or home.

---
756) Telist Pro 5.1
Telist is a contact and information manager program where you can save the fields (telephone, fax and cellphone numbers, e-mail, website, address, observations, anniversary and photo).

---
757) Calc Pilot 1.50
Calc Pilot allows you to perform calculations inside a document. For example, you have an expression "2+3=". If you press a hotkey, then you'll see the result: 2+3=5.00.

---
758) Fleet Maintenance Pro Shop Edition 10.0
Fleet Maintenance Pro Shop is easy to use fleet management software for shops. FMP alerts you when PM is due, tracks work orders, generates a fleet history, monitors operating costs, and tracks repairs, parts inventory, fuel, vendors, and drivers.

---
759) PDF-XChange Lite 3.5099
The junior member of our highly praised PDF-XChange range of software tools aimed at users wishing to create the smallest PDF files available - from any Windows application software. Simple to use - highly efficient. Ensures proffessional quali

---
760) SendToPager Personal 1.3
Send numeric and alpha-numeric messages from your PC to pagers and cell phones from the handy Windows application. Your contacts are stored in the Personal Address Book and reused for your messages. Recommended for Home and single-PC users.

---
761) OroTimesheet 4.01
Easy to use with a very user-friendly interface, OroTimesheet is the best software to manage time by project! OroTimesheet allows you to keep track of the time spent on each project by your employees in your organization.

---
762) Job Seek Manager 2.1
Job Seek Manager was designed to help you manage jobs applications. The process is very simple you select a job from the Web and copy and paste data into this software. After you have stored job details you can track, sort and filter it.

---
763)
Ergotimer 2.1
---
764) tApCalc Financial tape calculator(Palm) 1.00
Financial Calculator for Palm featuring a programmable tape that can be saved,edited,rerun, Beamed and printed without reentering the calculations again. With tApCalc finance, it is not necessary to carry the HP-12C around anymore.

---
765) Contact Card 1.10
Contact Card gives you an easy way to keep all of your contacts in one place. Whether your contacts are business, friends, or family, you can keep them all together at the touch of a mouse click.

---
766) ! - Speed Dial for Phone Cards 2.03
SD automates the dialing of phone numbers via phone card providers. The program holds your card access numbers and PIN codes together with the phone numbers you regularly dial. When you click "Dial" it dials the card access number, PIN and number.

---
767) VMR - Vehicle Care 1.5
A PC vehicle care application that stores repair records and reports costs by individual vehicle. - Stores preventive maintenance servicings - types completely flexible! - SCHEDULES services based on an interval of your choice.

---
768) Easy Print Calendar 4.00
The Easy Print Calendar does two things -- Print a variety of calendars and planners for those of us who like to work with paper; and provide simple month-at-a-glance calendar on your desktop. Features day-of-year, date spreads, and more.

---
769) DBF to XML 2.25
The DBF to XML program allows you to convert your dbf files to XML (Extensible Markup Language) format. XML is a universal data format. It is convenient for a migration of information to a new platform.

---
770) Calc It Converter 2.0.1
Calc It Converter is a fully featured measurement converter. It's planned measurements are: * Area * Length * Mass * Capacity * Volume * Temperature * and Computer Measurements

---
771) ImageClock 1.01
ImageClock for PalmOS(R) is an attractive Image-based Analog clock that, unlike most Palm Clocks combines the image and clock effectively without the clock face covering up the majority of the image.

---
772) Digital PhoneBook 2003
A very simple, fast, friendly contact management software with printing ability, phone dialer, backup/restore features, moving/copying contact cards. Easy email and browsing. Allows importing including Outlook Express and Comma/Tab delimited files.

---
773) Dating Agent BiZ - Personals Script v5
Unlimited picture upload, thumbnail generation, website name stamp on pictures. Fast / simple / advanced search, member browsing, picture upload and management including approval system, picture rating, top rated pictures, internal private messaging.

---
774) CTCnet 2.4
CTCnet is a collaboration and knowledge management software tool. Available to users through a standard web-browser, it provides comprehensive project, document and process management functionality, combined with version control and search.

---

775) AnyMini C: Character Count Software 4
AnyMini C is automatic character count software. It is character count program for all common file formats, which supports .DOC, .RTF, .XLS, .PPT, .PPS, .HTM, .CSV, .PDF, .TXT, .ZIP and is powered by AnyCount Text Count Engine.

---
776)
iTrack Enterprise 2.1F
---
777) bulkSMS - SMS & WAP Push Software 2.0
bulkSMS is a easy-to-use Windows NT/XP/2000/2003 based bulk mobile messaging software that can be used to send SMS in any language (English, Arabic, Chinese, Hindi etc) & WAP Push to a list of phone numbers from your PC using any GSM Modem or Phone

---
778) PileVclr 2.1
Calculate the live and dead volumes of your design of a bulk storage job with unlimited placement of material, withdrawal points, walls, slopes and grades. You will be able to show a visual check of results with presentation grade graphics.

---
779) Create Your Business Cards 1.5
Design and print professional looking business cards in minutes with "Create Your Business Cards" . It comes with many pre-made templates saving you the time of designing your business card from scratch!

---
780) myTasks 1.5.0
A powerful, easy to use and highly configurable to-do list manager! Strong import/export features, user-defined fields, advanced filtering and sorting, alarms with "snooze", archive and backup, and much more!

---
781) Maul Publisher 2.28
Maul Publisher is an industrial strength desktop publisher capable of creating virtually all of the printing seen on everyday household items.

---
782) WorkOrder XP 1.00
With workOrder XP you it will be able to manage work orders and services. It includes maintenance scheduling, service status, supply control, and more. Connect to WorkOrder using the web.

---
783) UPSS 2000 5.3
Universal Parcel Shipping Software, Multi-Carrier Packaging & Shipping Software. Automatic packaging charges calculation. Automatic Zipcode-City search. Automatic price comparison. Retail Manifest. UPS & Fedex interface. Plus much, much more!

---
784) Nexusion 1.2
Nexusion is a sure way for your website to improve its position in search engines. It helps to find new partners, assess their links and add them to your site; verifies found resources and creates a partner database, which is easy to manage.

---
785) MindModel 2.82
MindModel is very easy-to-use relational database software that allows you to store and recall information on any topic. Toll-free technical support. PC, LAN and Web versions available.

---
786) Simply Contacts Database 2.8
Customer database software. Track all you need to know about your customers, vendors, members, contacts, etc. Publish newsletters. Print labels. Direct mail and email. Telemarketing. Customize to your needs. Many optional modules.

---
787) PDF Converter Professional 2 - Maxdownload 2.0
PDF Converter Professional combines two leading PDF products from ScanSoft – PDF Create! and PDF Converter for Microsoft Word.

---

788) DB Commander 2000 Pro 6.6.0
DB Commander 2000 is an all-in-one database utility. A great tool for any person or any company dealing with many types of databases. It is your solution to handling any two different types of databases simultaneously

---
789) VoiSpeed Server 2.55
VoiSpeed is a software solution that lets you build complete telephone networks over LANs and realize Internet telephony, CRM and Call Center applications, integrating itself with databases and managerial softwares.

---
790) preCharge Secure Client 1.0
The preCharge Secure API is a free windows client for your desk, providing direct access to the precharge.com secure api and giving you the most secure, up to date and in-depth anti-fraud scoring process on the internet today.

---
791) numberator 1.3.0.15
Convert integers and currencies into words: 17 languages, 93 countries. Integers and currencies from clipboard: Copy any text with numbers into the clipboard and load it "from clipboard" to get a full translated list.

---
792) StarLogger 1.4
StarLogger is a key strokes recorder utility used to capture, monitor, and record everthing typed into a computer and is able to create screen captures regularly.

---
793) RainDat PalmOS 2.0a
For lawn sprinkler irrigation professionals. Right in your pocket, have access to all the performance data on popular Rain Bird® sprinkler nozzles: radius at various pressures, flow rate, etc. All spray, impact, rotor nozzles and Xerigation data.

---
794) Shut Up And Reboot 2006
Shut Up And Reboot! is an affordable, easy to use, multi-user ready help desk program. This new version has a totally redesigned interface and includes several integrated charts and graphs. Query and Report Wizards make it easy to analyze data.

---

795) Insoft Forms Filler 1.1
Insoft Forms Filler software lets you replace existing or new paper forms with an unlimited supply ofmulti-page WYSIWYG electronic forms, with data validation, computation etc., making it easier to fill and print forms quickly.

---
796) MLSwbp 3.11
De MLSwbp software is een door steeds meer overheidsinstellingen en bedrijven gebruikte software om te voldoen aan de richtlijnen van de Wet Bescherming Persoonsgegevens.

---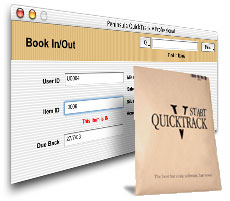 797) QuickTrack Start V V
Quicktrack start allow you to track items, assets and loans using a barcode reader

---

798) OfficeIntercom Communication Software 4.01
OfficeIntercom lets you use your computer to speak to others over the internet or your local office computer network. It works like a virtual intercom.

---
799) Lansweeper 4.0.0.27
Lansweeper is a powerful freeware solution to make a complete software, hardware, asset inventory of your windows network.

---
800) Duplication Check for Microsoft CRM 3.0
ASK Duplication Check: This tool allows users to search and check duplication of records in Accounts and merge the records including links to the records. Free trial.

---


Browse Pages: [1] [2] [3] [4] [5] [6] [7] [8] [9] [10] [11] [12] [13] [14] [15] 16 [17] [18] [19] [20] [21] [22] [23] [24] [25] [26] [27] [28] [29] [30] [31] [32] [33] [34] [35]