Top 3751-3800 Business & Finance Programs (from 8990 category titles)
Order programs after downloads or name (currently are listed after downloads)


3751) statlook 2 2.1.4
statlook is a powerful tool for Internet usage monitoring, user activity recording, remote helpdesk, screen capture, application usage tracking and work time control. In-depth reports and statistics enable you to manage staff efficiently.

---
3752) RS Budget 1.3.1
Simple and convenient tool which allows you to control your incomes and expenses. The main distinction of the program is that all transactions are created by means of a calendar.

---
3753) EDraw Organizational Chart 4.0
Edraw is a new organization chart drawing software, which creates organisation charts and business charts with minimum time loss for you. Support basic flowcharts, organizational charts, business charts, hr diagram and work flowchart.

---
3754) Label Spirit Professional 3.0
Label Spirit allows you to print professional barcode labels.You can create any size label with text,shapes and images.You can generate sequences of data freely,import data from any database.Further more,Label Spirit support variable and functions.

---
3755) MLEditor Standard Edition 1.3.5
.Intelligent multi-language text reader and editor .Unicode-related transfers .Professional quality Simplified Chinese (GBK) - Traditional Chinese (Big5) transfers .Control editor .Handy text file previewer .Desktop sticky note and much more

---
3756) AutoPlay me for PDF 2.0.4
Simply drag and drop your PDF file and then press the Write CD Now button and you are done. AutoPlay me for PDF does all the work. Not only does it add your file it also adds the Foxit PDF Reader.

---
3757) 3DS Export for Solid Edge 1.0
3DS Export for Solid Edge is a 3D Studio (.3ds) file export add-in for Solid Edge®. This add-in gives Solid Edge the ability to export 3D solid and surface data from a Solid Edge part or assembly document to 3d polygon meshes in a 3DS file.

---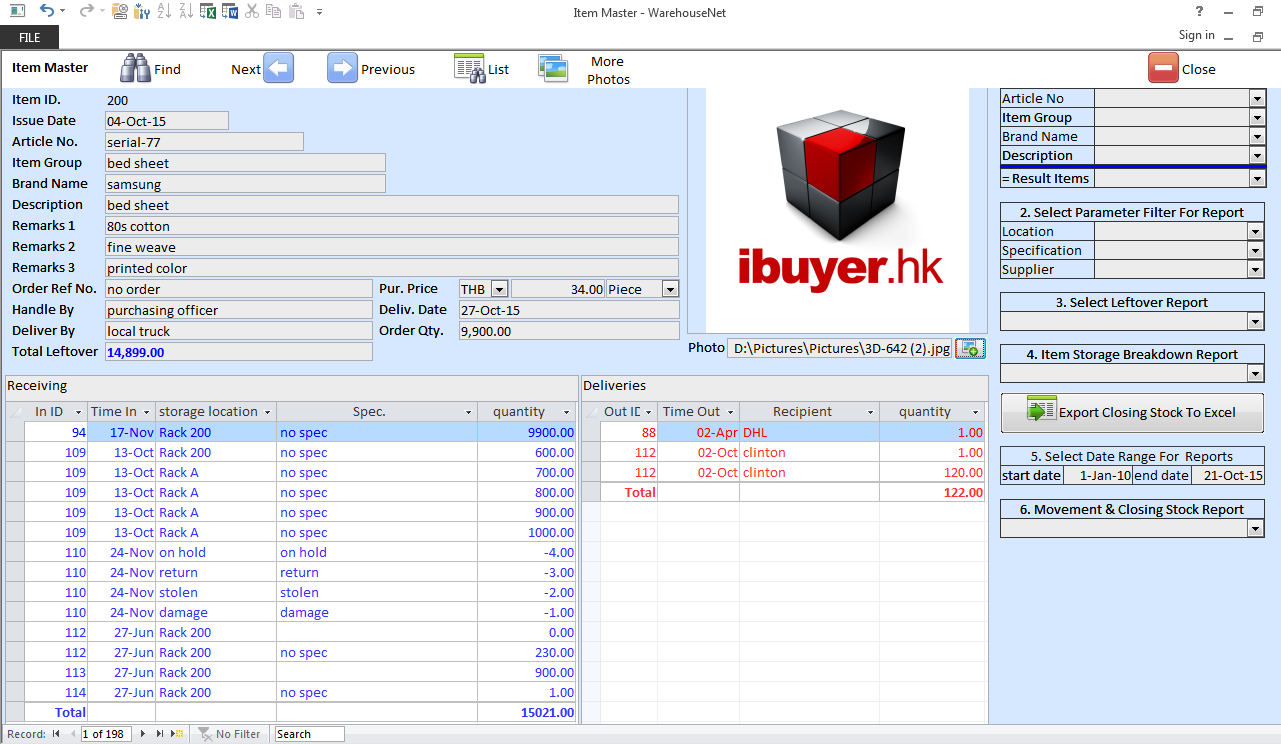 3758) WarehouseNet 2.88
WarehouseNet is a warehouse management software for inventory, logistic and distribution operation. Extremely suitable for private warehouse, distribution center,

---
3759) Timestimator 1.7
Calculate deadlines and assign time periods with an advanced date calculator. Timestimator carries out advanced time and date calculations with ease, presenting you exact times, dates, and periods at a glance.

---

3760) Classic Menu for Office 2007 3.80
Show Classic Menus and Toolbars on the Ribbon of Microsoft Office 2007. All new features of Office 2007 have been added into the software. Supports all languages that are supported by Microsoft Office 2007.

---
3761) PDF To DXF JPG TIF Converter 1.3
Converter of PDF documents in CAD DXF,Jpeg, Tiff, bmp, EPS and other picture sizes in batches and individual processing. Pictures extracted get in individual processing, parts are taken from the PDF page as a picture and remarks are created.

---

3762) AssetManage Asset Tracking - SQL Server 2007
Use AssetManage for SQL Server to track where your assets are, what state they are in, and who they are currently assigned to. Scan and print barcode labels directly from the program. Generate Monthly & Annual Depreciation schedules for each asset.

---
3763) Code 93 Barcode Font online full Deluxe
Barcodesoft Code 93 Premium Package empowers you to print code93 barcodes from your desktop printers. It is able to encode alpha-numeric data.There are 14 fonts, a crystal reports UFL DLL and a GUI encoder contained in the package

---
3764) GIF to AVI SWF Converter 1.9
It allows you to convert animated GIF formats to AVI and SWF files. Ability to define size and quality on converted output files. GIF Optimizer which gives you an ability of controls on display quality and file size of an image for use on the Web.

---
3765) Word Perfect X3
Corel WordPerfect Office X3 - is your one-stop office suite. Ideal for large organizations and governments as well as business and consumer users with the need for dependable word processing, spreadsheet, presentation and email solutions.

---
3766) Balanced Scorecard Designer 1.3
Balanced Scorecard Designer (BSC Designer) is a program that helps to design Balanced Scorecards or KPI in a handy way. Use BSC designer to create new scorecards with categories and goals, calculate the total performance within each category.

---
3767) Salon Calendar 4.2
Salon Calendar is a must-have schedule management tool for any company and individual specializing in beauty, fitness and healthcare service. The program has data import, export, password protection, backup copying and printing features.

---
3768) BodyCareGate Advanced 2008
For Small-Large Practice to manage Clients, Appointment Scheduling, Invoicing, Expenses, Receivable, Tax and Stock all integrated in one application that generates customized Reports and Graphic Reports with Option to Export data to Excel, PDF & Word

---
3769) Calc It Converter 2.0.1
Calc It Converter is a fully featured measurement converter. It's planned measurements are: * Area * Length * Mass * Capacity * Volume * Temperature * and Computer Measurements

---
3770) Karteset 2.0.0
Karteset is an easy to use cardfile database program. Store and organize any kind of information, suitable for businesses or home use. Use it to store notes, e-mails, customer data, personal information, recipes or any other text-based information.

---
3771) DevPlanner 2.1.8
Convenient tool for managing tasks and planning daily activities. Automatically generates accurate timesheets, weekly and project reports. Generates moods map in colors.

---
3772) SmartCUT 2.0
SmartCut is a professional software package designed for panel optimization. Using advanced algorithms, it generates the most optimized cutting layouts, providing for maximum material yield. SmartCut may be used in wood processing, glass, plastics,

---
3773) 101 Contacts Pro. 2.07
101 Contacts is the perfect dialing and emailing solution for case workers, staff managers or anyone who who needs to keep notes about phone calls. You can store up to 3000 contacts and each contact can have up to 25 phone numbers and emails.

---
3774) Outlook Password Recovery Master 1.0
This password recovery tool helps the user to display logins and passwords for all e-mail accounts created in the MS Outlook as well as passwords for the MS Outlook personal folder files (*.PST).

---
3775) My CharMap 1.1
CharMap utility with re-sizeable character display and zoom viewer. This utility enhances the default CharMap program that ships with Microsoft Windows. Features re-sizeable window and zoom panel to make viewing characters easier on the eyes.

---
3776) DiaryOne 6.0
Do you always get headache for the safety and secrecy of your private paper-written diary? Are you tired of the diary with plain text? DiaryOne is a creative multimedia diary keeper software for storing your private information securely.

---
3777) ImageClock 1.01
ImageClock for PalmOS(R) is an attractive Image-based Analog clock that, unlike most Palm Clocks combines the image and clock effectively without the clock face covering up the majority of the image.

---
3778) PDF Create Convert 1.0
PDF Create Convert is a useful program to create PDF documents from scratch or convert an existing document to PDF without the need of Adobe Acrobat.

---
3779) PDF Filler 2.00
Fill out PDF forms without the need for Adobe Acrobat software and preview filled PDF forms with a press of the button.

---
3780) K 2003 DB.USR 5.1.4
Komplette Auftragsabwicklung vom Angebot bis zur Rechnung. Serienbriefe und Geburtstage mit Bild undTon. Auftragsfortschritt, Kundenstrukturanalyse, Sprachmessage, Besuchskalender, Artikelanalyse, Verterter- Gebiets- Branchenstatistik u. Analyse.

---
3781) EldoS AutoSaveXL 2.0
AutoSaveXL is an add-in for MS Excel that saves the files you are working with automatically on specified time intervals. AutoSaveXL doesn't ask questions and creates several backup copies (with optional compression and password protection).

---
3782) Digital PhoneBook 2003
A very simple, fast, friendly contact management software with printing ability, phone dialer, backup/restore features, moving/copying contact cards. Easy email and browsing. Allows importing including Outlook Express and Comma/Tab delimited files.

---
3783) Schedule Daily Calls and Tasks for 20 Doctors 1.5
Schedule 4 daily calls and 50 daily tasks to 20 doctors for one year. The spreadsheet creates various schedules and a vCalendar file to transfer schedules to your PDA, Smart Phone and Outlook Calendar for handy reference.

---
3784) TowMagic 1.5
Reliable user-friendly towing software that allows service providers to receive Motor Club calls over the Internet, directly to the desktop with no phone communication. This useful towing software also links with TowSpec for towing instructions.

---
3785) Dating Agent BiZ - Personals Script v5
Unlimited picture upload, thumbnail generation, website name stamp on pictures. Fast / simple / advanced search, member browsing, picture upload and management including approval system, picture rating, top rated pictures, internal private messaging.

---
3786) TeamTrax Lite 1.6.1
EZVideoSplicer is an easy to use media file editor. It allows you to encode AVI or WMV files, merge several media files together, split media into several different files, and create animations from still images.

---
3787) CTCnet 2.4
CTCnet is a collaboration and knowledge management software tool. Available to users through a standard web-browser, it provides comprehensive project, document and process management functionality, combined with version control and search.

---
3788) Business2Go Standard 2.8
Accounts receivable, accounts payable, inventory control, backorder management, stock replenishment, banking, accounting, general ledger, reports, and sales analysis.

---
3789) VMPro Visitor Management Pro 2.0
VMPro 2.0 turnkey system to manage visitors, print badges & produce reports. It is extremely fast in producing photo ID visitor cards, has a very clear & legible interface, supports bar codes and is THE choice in ID & visitor management system.

---
3790) CB Calculator 1.0
CB Calculator calculates mathematical expressions. Enter into the top field a mathematical expression. This expression can contain parentheses. Then tap button =. The calculated result will appear in the bottom field.

---

3791) AnyMini C: Character Count Software 4
AnyMini C is automatic character count software. It is character count program for all common file formats, which supports .DOC, .RTF, .XLS, .PPT, .PPS, .HTM, .CSV, .PDF, .TXT, .ZIP and is powered by AnyCount Text Count Engine.

---
3792)
iTrack Enterprise 2.1F
---
3793) bulkSMS - SMS & WAP Push Software 2.0
bulkSMS is a easy-to-use Windows NT/XP/2000/2003 based bulk mobile messaging software that can be used to send SMS in any language (English, Arabic, Chinese, Hindi etc) & WAP Push to a list of phone numbers from your PC using any GSM Modem or Phone

---
3794) GraphSight Junior 1.0
GraphSight Junior is an easy to use freeware handy 2D math-graphing program. It was originally designed to help students and teachers satisfy their day-after-day math plotting needs. It makes it easy to plot common Y(X) = F(X) graphs.

---
3795) Venta4Net 1.8
Network fax and voice messaging solution for sending and receiving faxes and voice messages from any networked computer via a modem (or modems) installed in the server computer. Single line and multi-line versions available.

---
3796) OdysseySuite SBE 4.0.729
Complete accounting system for small business including GL, assets, receivables, payables, inventory, purchase order, sales, time billing & web shop - multi currency & multi company options available. Also suitable for accounting practices.

---
3797) PileVclr 2.1
Calculate the live and dead volumes of your design of a bulk storage job with unlimited placement of material, withdrawal points, walls, slopes and grades. You will be able to show a visual check of results with presentation grade graphics.

---
3798) Highly Effective Marketing Plan 1
Develop and implement a marketing plan that works for your business.

---
3799) Create Your Business Cards 1.5
Design and print professional looking business cards in minutes with "Create Your Business Cards" . It comes with many pre-made templates saving you the time of designing your business card from scratch!

---
3800) Lobbytech Plus 1.0
Visitor Management software for Vistor badges with photograph . Online visitor monitoring an tracking . Create appointments in advance through emails . Daily reports can be sent through emails. Scan visitor photographs with existing database.

---


Browse Pages: [1] [2] [3] [4] [5] [6] [7] [8] [9] [10] [11] [12] [13] [14] [15] [16] [17] [18] [19] [20] [21] [22] [23] [24] [25] [26] [27] [28] [29] [30] [31] [32] [33] [34] [35] [36] [37] [38] [39] [40] [41] [42] [43] [44] [45] [46] [47] [48] [49] [50] [51] [52] [53] [54] [55] [56] [57] [58] [59] [60] [61] [62] [63] [64] [65] [66] [67] [68] [69] [70] [71] [72] [73] [74] [75] 76 [77] [78] [79] [80] [81] [82] [83] [84] [85] [86] [87] [88] [89] [90] [91] [92] [93] [94] [95] [96] [97] [98] [99] [100] [101] [102] [103] [104] [105] [106] [107] [108] [109] [110] [111] [112] [113] [114] [115] [116] [117] [118] [119] [120] [121] [122] [123] [124] [125] [126] [127] [128] [129] [130] [131] [132] [133] [134] [135] [136] [137] [138] [139] [140] [141] [142] [143] [144] [145] [146] [147] [148] [149] [150] [151] [152] [153] [154] [155] [156] [157] [158] [159] [160] [161] [162] [163] [164] [165] [166] [167] [168] [169] [170] [171] [172] [173] [174] [175] [176] [177] [178] [179] [180]