Top 851-900 Web Development Programs (from 2879 category titles)
Order programs after downloads or name (currently are listed after downloads)


851) Javascript Menu Builder PLATINUM 2006 1.0
JavaScript-producing design tool for creating menus on web pages. The menu script can be customized highly and easily. With this easy-to-use script authoring tool, you can make a professional menu just in minutes!

---
852) DomainInspect 1.5
Advanced domain name checker designed to do WHOIS lookups and link popularity checks of more than 100 TLDs. Domain names can be inputted manually, imported from file, or generated automatically by using keywords.

---
853) DHTML Menu Builder 4.5.008
Create professional-looking pull-down menus for your Web pages without writing a single line of code.

---
854) Lanapsoft BotDetect ASP.NET CAPTCHA 2.0.8.0
Lanapsoft BotDetect - ASP.NET CAPTCHA is a website security component designed to protect your registration and other online forms from automated spam submissions. It generates CAPTCHA images that easily tell bots and humans apart. Sound support.

---
855) ClickBank Ad Builder 0.9
Put Google Adsense-type ads on your website for ClickBank products. Delivers ads for ClickBank products based on keywords you specify, or you can choose to let it pull keywords from your web page. Customizable to blend with your page.

---
856) Flash Particle Studio 1.23
Create Flash particle effect easily without Flash or scripting knowledge in a few clicks. Select from built-in effects such as fire, smoke, corona, warp, plasma, etc. Each effect is highly customizable. Publish as an SWF/FLV file or AVI video.

---
857) SiteMaster 3.006
Web site packages for developers, individuals, organisations and small business using website templates Why re invent the wheel or spend days or weeks setting up a site when we have done all the hard work for you. Edits with Dreamweaver Try our Demo

---
858) eWebEditor 3.7
Advanced online browser based wysiwyg html editor, full JavaScript and ASP source code, enhanced visual configuration.

---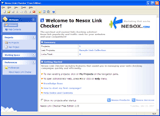 859) Nesox Link Checker Free Edition 2.0
Nesox Link Checker is a professional bulk web link validator, pagerank, link popularity and website traffic rank checker.

---
860) WhosVisiting 1.10
Who's visiting your web-site right now. WhosVisiting gives you an instant and live overview of current activity on your web-sites. You get a summary for instant overview, in-depth details, a world map, and individual visitor tracking history.

---
861) EMS SQL Manager 2005 for MySQL 4.0
EMS SQL Manager for MySQL is a powerful tool for MySQL Server administration and development. Its state-of-the-art graphical interface and a lot of features will make your work with any MySQL server versions as easy as it can be!

---
862) Yaldex JSFactory 3.2 3.2
You will find invaluable source of attractive and ready-to-use special effects there and will be able to place them on a page easily. And now you have, at last, the first specialized JavaScript Editor allowing to create, edit and test DHTML scripts.

---
863) ServiceBuilder - Worship Leader Software 50408-0001
Confirmations with church musicians can be automated! Let people click a link in their email program to confirm they're presence at rehearsal or at the service.

---
864) BCL Magellan 6.5
Convert PDF and Office documents to HTML

---
865) Arrow-Bar 1.0
Arrow-Bar v1.0 is an easy-to-use and completely customizable vertical navigation menu with custom cursor support (including support for special effects) and comes with a number of extra button sets.

---
866) DS Blobs 1.0
This applet displays acool blobs effect. Over the animation you can also insert an image and a scroll-text.

---

867) Belltech Small Business Publisher 1.0
Design and print professional address labels, letterheads, envelopes and more.

---
868) A3D Viewer 1.0
With the help of 3D Viewer you can always preview your picture series as a 3D image. Moreover you can change the order of pictures in the series and save sorted images on your computer.

---
869) AblePayments Suite for AbleCommerce 1.4
AblePayments Suite for AbleCommerce ASP.NET E-Commerce Shopping Cart. Add nearly any payment gateway supported across the globe to your AbleCommerce Online Store. FREE trial downloads with no time limits. Visit www.merchantapps.com.

---
870) PageUpdater 8.4.0
PageUpdater is an HTML utility for Web Masters.

---
871) Serank 1.0
Know exactly how popular your website is with search engines. Enter your website and Keywords and/or Key Phrases and this program will report where your website stands on up to 4 search engines.

---
872) dbQwikSite E-Commerce Edition 4.1
dbQwikSite: creates E-commerce Sites, Catalogs & Lists from your database in seconds. Generates HTML, ASP or PHP web sites for viewing, searching, adding, editing data, email. Offers shopping cart or links to Paypal Shopping Cart.

---
873) MioFactory 2.22
MioFactory is a desktop applications generator that lets you create downloadable and installable exe files using Web programming techniques: HTML, JavaScript, Flash, PHP, ASP, .NET, etc.

---
874) Instant Color Picker 1.1
YS Instant Color Picker is a tool to quickly capture and copy colors. Just press the hotkey while mouse pointer is over a color, it will copy its color code. It can also copy colors as color swatches. It stores captured colors in its color palette.

---
875) Advanced HTMLCoder 3.0
Advanced HTMLCoder helps you shrink the size of your Web pages, restrict access to them and protect your code from unauthorized viewing. Use this utility to optimize and encrypt Web pages, password-protect them and disable the right-click operations.

---
876) Web+ v5.0 Developers Edition for Windows
talentsoft's Web+ is a powerful and comprehensive development language for use in creating web-based client/server applications without writing complicated, low-level and time-consuming CGI programs.

---
877) csASPUpload 1.3
This is an ASP component which allows the uploading of files using html forms. It supports multiple files. The files can be saved to disk or to a database as a binary stream.

---
878) Gradient Text 1.0
Create cool gradient text for your website.Options:- set start / end colors;- select font name and size;- preview gradient text;

---
879) Hosting template 2 1.1
The template for aggressive hosting companies with challenging ambitions to conquer the hosting space of the Web. It is created taking into account all the requirements of a hosting company site: control panel, featured products, support etc.

---
880) Winmagic2005 5.5
This Utility Can Customize Your Computer You Fit To Needs. Includes Desktop & Startmenu Security tools win Customizing Tools It's Give More EnterTaintment. Now You Have Option To Brand your compouter own. Oemlogo Manager

---
881) AdSenseLog 3.0.1
A tool for checking (Tracking) and analyzing your Adsense data (Content, Search, Referral and Custom/URL Channels). Automatically check for new statistics at an interval of your choosing, analyze your data with extensive statistics, and chart graphs.

---
882) AllWebMenus Pro 5.3.828
Create cross-browser DHTML/JavaScript menus in minutes with AllWebMenus. Use plenty of themes to easily build SEO-friendly Drop-Down menus, CSS menus, AJAX effects, Sliding menus, Floating menus, Mega menus, etc. with no programming knowledge at all!

---
883) XP Web Buttons 3.52
Create superior XP and Vista-style web buttons in a few clicks! XP Web Buttons generates all button images,required Javascript and HTML code on the fly, so you don't need any additional graphics or programming skills and will get instant result.

---
884) JavaScript Spell Check 2.7
JavaScript Spell Checker is the spell checker component for JavaScript. JavaScript Spell Checker extends your Website & Intranet. Ajax compatible. http://www.javascriptspellcheck.com

---
885) Oven Fresh Preloader Maker 3.4
Preload Bmp, Gif, Jpg, and Png Images for Websites in One Simplified Step. Preloader Maker is an amazingly quick and easy way to preload Website images. Browsers can load your images before they completely load your Web page!

---
886) Bluo CMS 1
Bluo web based content management system is an intuitive PHP software for a small business websites. Manage your site and send newsletters as if you were using a desktop application. Perfect for web design agencies and small business owners.

---
887) Intellyweb 1.0.0.11
Intellyweb is a complete software for Internet publishing. Create and update your own multiple page websites by yourself. Make any attachments available for download and publish your site on the Internet. Just by the click of a button.

---
888) Build Flash Galleries 6.6.526
Flash gallery builder is a powerful but easy-to-use image album and flash gallery builder. It provides gallerys of templates which can satisfy every visual demand. Flash Gallery Builder supports major image formats from .JPG, .BMP and more.

---
889) Internet Cash 5.3
Internet Cash is a program that makes the fundamentals of the internet convert into money in your pocket.

---
890) PickaCart Choice - Mauve 2.5
PickaCart Choice - Mauve. An easy to build Database driven asp Shopping Cart. Use html script in the description areas has one Option field. Room for 130,000 characters for html, large images and text. Database Updater Form easy to complete and...

---
891) Magic Button - Java Button Maker 4.01
Java Button Maker is a very friendly system for creating Web-page Java-based buttons, even if you have no programming knowledge.

---

892) SecExMail Gate 1.2
SecExMail Gate is an email proxy server which encrypts and decrypts messages on your corporate network in real-time. This proxy server integrates with your existing corporate infrastructure and operates in conjunction with your SMTP/POP3 mail server.

---

893) TIFF To PDF ActiveX Component 2.0.2009.501
Convert TIFF files to PDF Support single or multiple page TIFF Support various TIFF encoding such as CCITT G3/G4, LZW, RLE and uncompressed Merge multiple TIFF files into one PDF

---
894) IntraLaunch 5.0
IntraLaunch allows HTML links to execute anything from .EXEs to associations such as .DOCs right from a web page. It can also open several Wizards, run dialog box, map network drives, shutdown the workstation, passwords, sound events, etc.

---
895) Link Exchange Manager 2.0.1.5
Link exchange manager application checks all those back links (website links, java script links, direct links) of advertiser's site which are linked to publisher websites and can be helpful to that users who want to raise their web page rank.

---
896) AllSubmitter 1
AllSubmitter - professional directory submission software.#1 Directory Submission Software.All Submitter is the most complete directory submission software package on the planet; plus, our SEO software offers more for free than any other software

---
897) QuidProQuo 1.04
Multithreaded QuidProQuo quickly scans through your site to locate your link partners and spiders through your link partners sites to verify reciprocal links back to you.

---

898) HTMLPad 2006 Pro 7.3
Quick and powerful HTML, XHTML, CSS and web script editor. You can instantly create and edit HTML, XHTML, CSS and scripts, validate, reuse, navigate and format your code. Convenient interface and tools let you increase productivity and save time.

---
899) Simple JavaScript Ticker 1.1
This version of JavaScript Ticker can show simple text that you enter from a PHP variable. This can be used for simple content or you can start from this to develop your version of the ticker customized for your specific needs that you can not fi

---
900) Form1 Builder MYSQL 30
Easily easily build secure web forms that can automatically import form data directly into your MYSQL Database.

---


Browse Pages: [1] [2] [3] [4] [5] [6] [7] [8] [9] [10] [11] [12] [13] [14] [15] [16] [17] 18 [19] [20] [21] [22] [23] [24] [25] [26] [27] [28] [29] [30] [31] [32] [33] [34] [35] [36] [37] [38] [39] [40] [41] [42] [43] [44] [45] [46] [47] [48] [49] [50] [51] [52] [53] [54] [55] [56] [57] [58]