Backup & Restore - System Utilities Programs from 1 to 50 listed after downloads number (from 2001 category titles)
Order programs after downloads or name or date (currently are listed after popularity)



1) PowerISO 3.5
PowerISO is a powerful ISO file processing tool, which allows you to open,extract,create,edit,compress,encrypt,split and convert ISO files, and mount them with internal virtual drive. It can process almost all CD-ROM image files including ISO and BIN

---
2) DVD Shrink 2010
Use DVDShrink to backup all your favorite DVDs directly on your hard drive easily and quickly. DVDShrink is a powerful software that works in conjunction with other DVD software to make backups of any DVD.

---
3) Microsoft USB Flash Drive Manager (Standard) 1.0.0
Use this application to backup and restore presentation, pictures, songs and applications from and to USB Flash Drive devices and take them with you.

---
4) ISOpen 4.4.0
Burn your data CD and DVD, audio CD, burn your images disc. Handle all images formats. ISO, BIN, CUE, IMG, CCD, NRG, CIF, MDF, CDI, C2D, BWI, VaporCD, PDI, MD1, XA, CMI... (Multi-session image, AUDIO image)

---
5) DriveImage XML 1.00
Backup logical drives and partitions, create hot images, restore & browse drive images, copy or clone one drive to another, extract, view and recover files from a backup, explore and process XML image file

---
6) WinDriver Ghost 3.00
Backup, restore, remove, install and update all device drivers on your system.

---
7) Novell NetWare Revisor 3.5
Novell NetWare Revisor allows you to create images of NDS-tree and NetWare-servers, view and edit them offline. Make a listing of tree objects and construct your own reports. Perform server recovery, connection monitoring and much more.

---
8) Drive Snapshot 1.37
Drive Snapshot creates an exact Disk Image Backup of your system - while windows is running and you continue to work. If desaster strikes, a complete and exact restauration of your system will be possible in only few minutes.

---
9) CompuApps OnBelay V2 011
OnBelay™ can recover lost files, Format, Backup and Duplicate various types of flash media. Media damaged due to system or battery failure, accidental format, deletion or corruption will all be restored to factory settings.

---
10) Fast File Splitter 3.1
Fast File Splitter (FFS) is a tool to split large files into smaller files to be put on floppies or sent by email. FFS comes with a lot of advanced options. Customizable file size or number of files to generate. Can create a self merging file.

---
11) BootMaster PLUS Win XP/2000 Rescue Disk 3.01
BootMaster PLUS is a powerful and easy to use partition and file recovery utility for Windows 2000 & XP. Recovers deleted FAT and NTFS partitions. Recovers & undeletes files on NTFS volumes. Backed by timely, aggressive technical support.

---
12) SQL Server Backup 5.10
Backup and restore tool for Microsoft SQL Server. The user-friendly wizard let you backup and restore SQL Server database to local harddisk or remote network driver easily and quickly .

---
13) Partition Table Doctor 3.5
Partition Table Doctor is the only real data recovery software for hard disk partition recovery, it automatically checks and repairs mbr, partition table, boot sector of partition error to recover FAT16/ FAT32/NTFS/EXT2/EXT3/SWAP partitions.

---

14) Data Recovery by ADRC freeware 1.0
Data Recovery by ADRC freeware with a handful of data recovery features for everyday computer users. It can undelete files, copy files from hard disk drive with bad sectors, do an image raw copy, image backup/restore or import/export boot sector.

---
15) DATA RECOVERY SUITE 2007 2007.2.1243231
Data Recovery and systems tools suite: Boot up ANY desktop and laptop, Easily recover/install ALL Windows, Create, delete and format partitions on your hard disk; backup partition table, Reset Windows Admin/User password, too much to list all!

---
16) TurboBackup 4.0
TurboBackup lets you backup Windows System State, E-mail, contact, registry, system settings, photo, music, and documents directly to DVD, CD, Disk, Network on demand or via Scheduler. Recover data from Windows and software errors and hardware crash.

---
17) Diamond Backup Professional 1.4.25
A powerful and easy-to-use tool, Easy backs up and protects the files and data you care about such as files, folders, documents, emails, photos, address book, and settings

---
18) DVDCloner 2.1
What is DVD-CLONER for? It is designed to backup your favorite DVD movies. Have you stored your DVD movies properly? According to a survey among movie fans, we find that half of them can't keep their movies more than 3 years ?

---
19) SoftAmbulance 4 Outlook Express 1.68
Recover deleted messages, fix corrupted databases and restore Outlook Express operation in a matter of minutes. SoftAmbulance 4 Outlook Express effectively recovers lost email and repairs corrupted DBX files completely automatically.

---
20) XP Recovery CD Maker 1.01.09
makes a BartPE CD with a Crash Troubleshooter, Drive Explorer, WinRescue Crash Fixer, Zip Extractor, and WinXP Restore Points Restorer to help you recover from a WinXP and Win2000 crash.

---
21) WinDriver Expert 1.90
WinDriver Expert is a driver backup utility that enables you to detect hardware, backup driver or drivers currently installed on your system. If you seek more fuctions, such as restore driver, install driver, try our Shareware product My Drivers.

---
22) Advanced Zip Repair 1.8
Advanced Zip Repair (AZR) is a powerful tool to repair corrupted Zip files and Self Extracting(SFX) files. It can scan the Zip archives and recover your data in them as much as possible, so to minimize the loss in file corruption.

---
23) Backup Chunker 1.0
Backup Chunker is a backup/synchronization solution with unique features! Perform multiple synchronizations between computers, USB disks, MP3 players, secure FTP & WebDav hosts. Can also backup into multiple compressed and/or encrypted zip files.

---
24) sD Card Data Recovery 3.0.1.5
Memory card data restoration software restore lost audio video pictures photographs clips application programs from formatted multimedia card memory stick compact flash recover accidentally deleted office document word excel power point files folders

---
25) FileRevival 1.2
FileRevival recovers deleted files from your FAT12, FAT16 and FAT32 volumes.

---
26) SynchronEX Backup & FTP 2.14
File and directory synchronizer, backup, ZIP, incremental FTP upload, finding duplicate files in applications like laptop/server-synchronization, multi-point authoring with collision detection, super and nested syncs. Integrated into Windows Explorer

---
27) Free Keylogger King 1.3
With Free Keylogger King, you will never lose any of your text, whether it was typed in an e-mail client, a text editor or an on-line form. This free program logs everything you type. Get your passwords, registration keys and other info safely logged

---
28) WinBackup 1.86 1.86
The backup and recovery solution that awards 100% reliability and superior performance at a click of a button.

---
29) ComparatorPro 4.101
ComparatorPro vergleicht, zum schnellen aktualisieren von Backupsicherungen, Dateien, Ordner und Unterordner, bevor Sie wichtige Arbeitsdaten verlieren. Für eine perfekte Übereinstimmung werden die Dateien synchronisiert.

---
30) Recovery for Word 3.2.0925
Recovery for Word fixes corrupted Microsoft Word document files. Supports all modern file versions, including Word 2007/2003/XP/2000/97/95/6.0 documents. Recovers text. Restores formatting. Recovers password-protected files (if password is known).

---
31) #BKFRecovery 2.0
BKFRecovery is a data recovery software to recover files from corrupt or damaged BKF files. These files are normally restored using NTBackup.Exe or Veritas Backup Exec.

---
32) Flash Drive Undelete 3.0.1.5
Pen drive deleted data rescue utility restores MS Office documents like word, excel, power point, access files and application programs. Flash drive data retrieval software retrieves jpg, gif pictures even disk is virus affected or drive not detected

---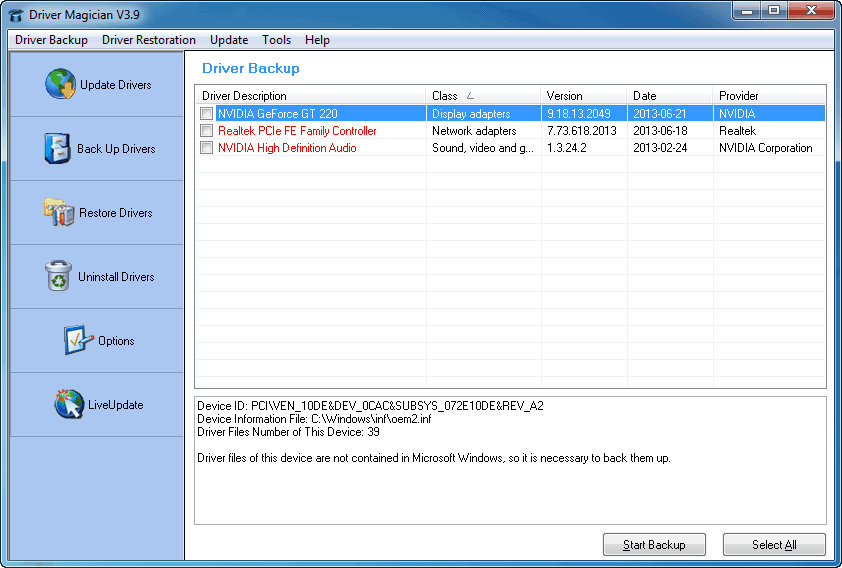 33) Driver Magician 3.48
Driver Magician helps you back up, restore, update and uninstall device drivers of your computer. it can also detect unknown devices of your computer.

---
34) All Image 1.1
Create image files of any disks and back (USB Flash, Floppy, Hard Drives, etc). Save the image file compressed, uncompressed or as a highly customizable self-extracting exe. Create bootable USB Flash Drives to use instead of bootable floppy disks.

---
35) Firestreamer-DVD 1.5.1
Firestreamer-DVD allows you to use Windows Backup Utility (NTBackup) to back up your files to DVD media. Firestreamer-DVD supports all the features of NTBackup, including data compression, media spanning and Windows Automated System Recovery.

---
36) Recovery for SQL Server 4.1.1006
Recovery for SQL Server fixes corrupted SQL Server database files. It restores corrupted tables, views, stored procedures, triggers, indexes. Both standard and user-defined data types are recovered. Supports MS SQL Server 6.5, 7.0, 2000, 2005, 2008.

---
37) EZ Eudora Backup Pro 3.0
EZ Eudora Backup Pro makes it easy to backup your mail and address book to a ZIP archive or to CD/DVD and works with the Windows Task Scheduler to provide a completely automated backup solution.

---
38) Font viewer 2.2
xp Font viewer is a utility that allows you to view the fonts installed on your system. You simply enter a phrase and the program shows this phrase in different fonts. Thus you can clearly see your phrase written in different fonts.

---
39) Easy Backup 7.3
Easy Backup makes DOS compressed self restoring backup disks. It backs up the named directory together with any sub directories which it may have. Backup parameters are stored in a data file so that subsequent backups can be menu - selected.

---
40) Smart NTFS Recovery 4.4
If you have lost important data from your computer, then Smart NTFS Recovery gives you the highest chance possible of getting it back. The program supports any kind of media including flash drives and hard disks using the NTFS file system.

---
41) SyncBackSE 5.9.0.13
Easily backup, synchronize, or restore your files to another drive, FTP server, ZIP file, networked drive, or removable media. SyncBackSE includes open file copying, true synchronization, fast backups, simulations, versioning, and extensive help.

---
42) File Mirror 2.2
File Mirror is a very useful synchronization and backup utility. It removes the headache associated with the synchronization of files and directories located either on one computer or on several different computers in your local network.

---
43) SybaseRecovery 1.0.0729
SybaseRecovery is a powerful data recovery software for damaged Sybase database files (.DAT). Recovers tables and table data, indexes, primary keys and stored procedures, etc. Supports Sybase Adaptive Enterprise Server 12.x files.

---

44) Kernel Novell - Data Recovery Software 4.02
Nucleus Kernel Novell - Novell Netware Data Recovery Software recovers data from corrupt volume(s) of a crashed Novell Server. Kernel for Novell - Novell Data Recovery Software can recover and allows access to the data when the volume cannot be mount

---
45) xPort 3.3
xPort is the ultimate backup tool for your iPod, it enables you to directly transfer songs from your iPod to your PC without loosing ratings.

---
46) Deleted File Analysis Utility 2.5
This freeware for Windows NT/2000/XP can scan your hard drive partitions and list all deleted files that may still be recoverable.

---
47) ASIS Backup 2.4
Backup copies made with ASIS Backup are bootable. This means that you can boot your computer from a backup CD or DVD disk created by this program. Make images of your disk and restore everything by simply putting a disk in and turning on your PC.

---
48) EasyDVDX 2.843
EasyDVDX Copy Any DVD to One CD ! No DVD Burner Required ! Results are same as original DVD. Make your DVD copies faster and easier then ever before. Play back on standard DVD drives. Backup your VHS tapes. Video Game Copy Secrets included !

---
49) Undelete Plus 2.92
Undelete Plus is an award winning free program that can recover deleted files after they have been deleted.

---
50) CompuApps DriveWizard V1.37
Simple windows tool to move all your data like boot information, registery etc byte by byte to an another hard drive with ease and makes new hard drive bootable. Automatic backup keeps your new hard drive updated.

---


Browse Pages: 1 [2] [3] [4] [5] [6] [7] [8] [9] [10] [11] [12] [13] [14] [15] [16] [17] [18] [19] [20] [21] [22] [23] [24] [25] [26] [27] [28] [29] [30] [31] [32] [33] [34] [35] [36] [37] [38] [39] [40] [41]