Top 2601-2650 System Utilities Programs (from 10947 category titles)
Order programs after downloads or name (currently are listed after downloads)


2601) Genie Backup Manager Professional 6.0
Genie Backup Manager Professional is a very easy to use yet powerful and flexible software that can backup and restore files, documents, emails, settings, programs and more to virtually any local or remote device

---
2602) File Encrypt 1
File Encrypt is a complete file encrypting program that even allows you to make your own keys! Rijndael encryption with a key size of 256 is used to provide quick and secure encryption. Encrypt your sensitive data today!

---
2603) File2Pack 2.0
File2Pack (File To Pack) is a file packer/compressor with excellent compression ratio. This tool will pack all your files into one package in F2P format that can serve as file archive or for file backup and restore. Very easy and practical to use!

---
2604) Outlook Express Backup 1.999
Outlook Express Backup is a backup and synchronization tool for the popular Outlook Express mail client. It allows you to backup and restore your messages, address book, settings, mail accounts, message rules, signatures, and even your favorites.

---

2605) USB Drive Restore 2.0.1.5
Pen Drive lost pictures photos images photographs retrieval software retrieves corrupted files folders support Windows XP NT ME 2003 98 2000 recovers formatted audio video mp3 3gp m4v songs music restore damaged thumb drive flash drive USB drive data

---
2606) Excel Recovery Toolbox 1.4.22
Excel Recovery Toolbox is a tool for repairing corrupted Microsoft Excel files. The program extracts information from corrupted and unreadable Microsoft Excel files and exports the data to a new Excel file. Tool can repair Excel 2007 files (.xlsx).

---
2607) DameWare NT Utilities 6.4.0.5
DameWare NT Utilities (DNTU) is an enterprise system management application for Windows NT/2000/XP/2003/Vista. DNTU provides an integrated collection of Microsoft Windows NT administration utilities. More info on http://dameware.ru

---
2608) Windows Unattended Installation 2.6
Want to create a WindowsXP installation disk that will automatically install the system without asking questions about username, product key, time and locale settings? It is possible and you can do it easily with Almeza MultiSet!

---
2609) Free Antivirus Toolkit - MWAV 9.3.8
Free AntiVirus toolkit to scan your PC of virus, adware, spyware, trojans, registry errors and other malware.

---
2610) QuoTracker 2.4
QuoTracker is the ultimate tool to facilitate monitoring and tracking your investment in world-wide stock markets and US/Can. mutual funds. It collects and connects information from different free websites and puts them together for your easy access.

---
2611) Fast PDF Builder 1.0
Quickly and easily convert txt,html and rtf files to pdf format in seconds! Using Fast PDF Builder you can convert your programs in seconds. Drag and drop from explorer ease and easy to use interface. You can password protect the generated PDF files.

---
2612) InnDevelop SoftInfo 1.0
Display software, hotfixes that are installed on your computer. Also show list with running applications

---
2613) DupeWatcher 2.3
A profile based powerful duplicate file finder for Windows. It can detect duplicate files irrespective of file names using CRC32 or MD5 content match algorithms. It can also detect duplicate files based on file name, size, create or modified date.

---
2614) RAM Idle Pro 3.0
A smart memory management program that will keep your computer running better, faster, and longer.

---

2615) FolderWatch 3.12
Unlike other backup program that will run only on demand or at defined schedule, Folder Watch guards your files all the time.

---
2616) Name It Your Way (NIYoW) 1.7.2
NIYoW, Name It Your Way, is a professional all-in-one file and folder mass properties editor. NIYoW is perfect for digital images, documents, music files or any other collection of files and folders you have.

---
2617) BREAKTRU REMIND 9.1
ReMind is a handy calendar, scheduler Important date, task reminder. Stores several messages for a later date notification. Or use as a timer to inform you of tasks to do.

---
2618) SpyArsenal.com Telephone Spy 3.01
Telephone Spy uses the modem to record phone conversations. It stores them to your hard drive as Windows sound files (with memos for easy navigation). Once a conversation is recorded, it can be automatically sent to a specified e-mail address.

---
2619) HeLux Operator 1.3x
HeLux Operator is a reliable and convenient tool for operations with files.This program is a file manager that uses the Drag & Drop principle.The program combines a stylish design with a high usability. With this program you can sort everything

---
2620) PECompact 2.75
An executable compressor, PEC compresses Windows modules (EXE, DLL, SCR, etc..) substantially, while leaving them able to be run just as before. At runtime, compressed modules are rapidly decompressed in memory. PEC is a truly modern exe packer.

---
2621) easyMag 1.1.0
Magnify areas of your desktop and capture screenshots and color information

---
2622) a - 101 Clips - Multi Clipboard 6.21.00
If you ever wished that you could copy more than a single clip from one document before pasting to another, 101 Clips is for you. With 101 you can copy up to 30 times and unlike other multi clipboards, 101 shows you a preview before pasting.

---
2623) WinFixer 2005 1.0.18.1
WinFixer 2005 is a useful utility to scan and fix any system, registry and hard drive errors. It ensures system stability and good performance, frees wasted hard drive space and recovers damaged Word, Excel, music and video

---
2624) RamBooster 6.0.0.1
Optimize your cache to act as a ram booster and boost computer speed. Discover extreme pc speed with Internet software solutions.Booster software. Tips on optimizing cache for a ram boost

---
2625) RAUL 1.0.3
RAUL stands for 'Run As User Launchpad'. RAUL is designed to allow specified individuals access utilities such as Task Manager in a restricted desktop environment.

---
2626) Roboform 6 6.5.7
Roboform is the top-rated Password Manager and Web Form Filler that completely automates password entering and form filling. RoboForm was named PC Magazine Editor's Choice, and CNET Download.com's Software of the Year.

---
2627) Camtech Context Tools 1.0
Camtech Context Tools is a collection of useful tools added to Windows Explorer context menu used by Camtech on a daily basis. This adds 2 new items to the 2 existing ones. Choosing "Custom" during the install let's you specify which ones you want

---
2628) WinRescue 95 10.08.33
Four Tools in One: Crash Fixer, RegPack, File Backup, and Troubleshooter. Don't spend hours reinstalling Windows 95, restore in minutes with WinRescue 95. WinRescue 95's tools protect you against crashes. More details at www.superwin.com

---
2629) StuffIt 7.0
Comprehensive compression software.

---
2630) F L A S H R E T R I E V E R 1.01
Flash Retriever - Flash Media Data Recovery Software is a powerful, easy to use file recovery tool which provides data recovery from damaged or defective Flash Memory Cards. Even if your flash media has been formatted, Flash Retriever can bring your

---
2631) ActMask Document Converter CE 3.152
ActMask Document Converter CE is a software product that can convert all files (MS Office Document, .txt, .wri, .doc, .ppt, .xls, .htm etc.) to PDF format or JPG image. For PNG, BMP,TIF, TGA, PCX, EMF, SPL or more output formats, visit our site.

---
2632) Remote Queue Manager Personal 4.0.153
Remote Queue Manager is a professional tool to manage print jobs. There is no need to install any drivers to control a remote printer. Remote Queue Manager allows you to visually preview documents in the spool.

---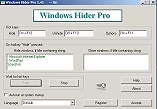 2633) Windows Hider Pro 1.51
Windows Hider will allow you to hide specified groups of windows just by pressing a single Hotkey (or a combination of Hotkeys). Most of the time, program works in the hidden mode, not making anyone know that it is there.

---
2634) My CSV to XML Converter 1.0
Performs powerful conversions of CSV and other delimited text files to XML format. You control which data fields are elements or attributes and maintain full control over element names and their position in the XML tree.

---
2635) Synchro Backup Professional 1.0
Synchro Backup is an easy to use backup utility which synchronizes your precious files to local drives, network locations, flash memory, and many other types of removable media. Supports VSS (Shadow Copy) so you can backup files that are in use.

---
2636) watchDirectory 4.0.44
WatchDirectory automatically starts tasks when the directory contents that this program is monitoring changes. Predefined tasks include: Auto Copy, Auto Sort, Auto FTP, Auto Email, Thumbnailer, Create HTML, Auto ZIP/Unzip, Start your own script.

---
2637) Program Selector Pro 2000/XP 4.9
Replaces standard Windows 2000/XP user interface (task bar, Start button, and icons) with user-configurable password-protected list box of program names. Individual programs can also be password protected. Provides access control for computers.

---
2638) Clipboard Express Pro 3.2.7
Performance Clipboard Management program. Multi clipboard storage utility to copy drag paste text pictures. Stores upto 150 text clips up to 32,000 characters with carriage returns plus 10 pictures. System tray easy icon access. Just Brilliant!

---

2639) EF Process Manager 5.11
Shows you comprehensive information about which modules processes have opened or loaded,register/unregister modules to registry database, show the environment variables or the Windows error codes, make operations like kill process and much more...

---
2640) Emsa EZ Encryption Tool 1.0.46
EMSA EZ Encryption Tool is a simple encryption program for Windows which uses the Blowfish algorithm to encrypt files or text chunks. This algorithm is a strong encryption algorithm using a private key, therefore keeping your data safe. Freeware.

---
2641) uForte OPC Historian 1.0
"UForte OPC Historian" designed to archive data from OPC DA servers. It can be freely configured to collect data from many OPC servers simultaneously. Servers and items are specified in the configuration of "OPC Historian" by the user. "OPC Historian

---
2642) Easy Burning 1.70
EASY Burning is the easiest way to backup your files in a cdr(w). Integrated to the shell (send to) or used as a normal application, EASY Burning works with any CD writer. .Write a folder and files, pictures and what ever you want. Easy to use.

---

2643) SmartVersion 2.0
SmartVersion offers a centralized location for archiving multiple versions of one file. Examples may include Word, Excel or HTML files. The program allows you to save the hard disk space and internet bandwidth if file versions are sent over the web.

---
2644) OpenzUp 1.0
OpenzUp is an easy-to-use file opener that opens your favorite files quickly.

---
2645) Active ISO Burner 2.1
Active@ ISO Burner will allow you to burn an ISO image file to CD-R, CD-RW, DVD-R, DVD+R, DVD+R DL (Dual Layer), DVD-RW, DVD+RW (DL) and Blu-Ray disks. Active@ ISO Burner software accepts command line parameters to automate ISO files burning.

---
2646) File Seeker 1.6.3
Searches Hard Disks for Files - HIGH Speed,Accuracy and search within feature.

---
2647) AJC Grep 1.1
AJC Grep is a powerful file finder, text search, replace and data extraction program for Windows. This is a major time saving tool for developers, documenters, web designers and anyone who has to search and replace in a large number of files.

---
2648) My Scroll PRO 1.0.5
My Scroll PRO allows you to scroll any window horizontally holding down the right mouse button (or a keyboard key) and rotating the mouse wheel. It can also speed up or slow down vertical or horizontal scrolling.

---
2649) Anasil 3.2
Software network analyzer and protocol decoder for distributed networks. Remote Agent based technology enables to monitor and manage a multi-segment networks: station discovery and remote control, traffic statistics, frame capturing, event tracking

---
2650) Docktopus 1.0.1
Overlay badges on your Dock icons for access to more information about the items in your Dock. Access drive space and folder size statistics, launch apps, control iTunes, monitor Mail, view today's iCal events and more, all from your Dock.

---


Browse Pages: [1] [2] [3] [4] [5] [6] [7] [8] [9] [10] [11] [12] [13] [14] [15] [16] [17] [18] [19] [20] [21] [22] [23] [24] [25] [26] [27] [28] [29] [30] [31] [32] [33] [34] [35] [36] [37] [38] [39] [40] [41] [42] [43] [44] [45] [46] [47] [48] [49] [50] [51] [52] 53 [54] [55] [56] [57] [58] [59] [60] [61] [62] [63] [64] [65] [66] [67] [68] [69] [70] [71] [72] [73] [74] [75] [76] [77] [78] [79] [80] [81] [82] [83] [84] [85] [86] [87] [88] [89] [90] [91] [92] [93] [94] [95] [96] [97] [98] [99] [100] [101] [102] [103] [104] [105] [106] [107] [108] [109] [110] [111] [112] [113] [114] [115] [116] [117] [118] [119] [120] [121] [122] [123] [124] [125] [126] [127] [128] [129] [130] [131] [132] [133] [134] [135] [136] [137] [138] [139] [140] [141] [142] [143] [144] [145] [146] [147] [148] [149] [150] [151] [152] [153] [154] [155] [156] [157] [158] [159] [160] [161] [162] [163] [164] [165] [166] [167] [168] [169] [170] [171] [172] [173] [174] [175] [176] [177] [178] [179] [180] [181] [182] [183] [184] [185] [186] [187] [188] [189] [190] [191] [192] [193] [194] [195] [196] [197] [198] [199] [200] [201] [202] [203] [204] [205] [206] [207] [208] [209] [210] [211] [212] [213] [214] [215] [216] [217] [218] [219]