Top 801-850 System Utilities Programs (from 10947 category titles)
Order programs after downloads or name (currently are listed after downloads)


801) DiskInternals CD and DVD Recovery 2.0
Got corrupted/inaccessible files on a CD or DVD? Power went out, during a recording session? This solution will recover files from CDs and DVDs, including multi-session ones. CD-R, CD-RW, DVD-R, DVR+R, DVD-RW, DVR+RW and DVD-RAM. 100% Success Rate

---
802) Reduce Exe 1.3
Reduce Exe is an easy to use tool for correcting Windows Portable Executable files

---
803) WinNc.Net 4.1
WinNc.Net is a file manager for Windows XP and 2000/ME/98/95 that replaces the use of the existing Windows Explorer. WinNc uses the same key shortcuts and the same mouse functionality as a well known filemanager for DOS called Norton Commander.

---
804) PDFcamp(pdf writer) 2.1
create pdf from any application with pdf writer, high speed and high compression ratio.

---
805) Careful Backup 1.5
Careful Backup (tm) is the easiest way to backup your most important data to another folder or any type of removable media including floppy disk, ZIP, JAZ, MO, CDR/CDRW media and more.

---
806) Tech-Pro Utilities Collection 1.2
The Tech-Pro Utilities Collection contains 12 of Tech-Pro's most popular utilities including an application launcher, live updater, text editor, sticky notes application, zip file manager, password manager, calendar, clock synchronizer and more.

---
807) Ashampoo WinOptimizer Platinum 3 3.30
A new dimension of Windows® optimization!

---
808) IDAutomation Code 128 Font Advantage 5.1B
Our Code 128 Font Advantage Package is much more than a few barcode fonts. With this package you get 18 different font versions in 6 different font formats for Windows, Macintosh, UNIX and a variety of other operating systems.

---
809) OnStart Pro 1.6
OnStart Pro is a multi-user startup manager for Windows 2000/XP/2003 that allows you to control startup sets of every user on your computer.

---
810) HDD Thermometer 1.3
HDD Thermometer is a small and feature-rich temperature monitoring tool for your hard disks. It has all the features needed to prevent overheating and possible data loss. (It can: play sound, hibernate PC, display HDD indicators and so on..)

---
811) SoftPerfect Traffic Meter 2.0
SoftPerfect Traffic Meter monitors your network traffic. With SoftPerfect Traffic Meter, you can create a full-featured system for monitoring the Internet traffic usage of specific users on your home or office network.

---
812) Windows Registry Repair Pro 3.0
Registry Repair Pro scans the Windows registry for invalid or obsolete information in the registry. When you fix this information it will make your PC run faster and will make your PC error free.

---
813) WanSpy 1.6
Today's computer networks doesn't just confined to LAN, it is distributed over wide area across building, cities and countries through WAN Link. WAN link is still expensive and may be point of bottleneck many a times.

---
814) Remote task manager 1.4
remote process,shutdown,system information, send message , event log ,services

---
815) Active NTFS Reader for DOS 1.0.2
NTFS Reader is a data recovery tool that provides read access to NTFS drives from MS DOS environment. The FREEWARE utility allows you to preview files on NTFS and copy them from NTFS to FAT volumes or network drives.

---

816) Backup Platinum 20
Easy-to-use and powerful backup program designed for Microsoft Windows. Makes a reserve copy to hard or USB drives, CD-R/W, DVD, FTP or LAN. Features scheduler, file encryption and ZIP compression. Can run in service mode under NT/2000/XP/2003.

---
817) Video Cutter and Splitter Indepth 1.3.0.0
Video Cutter and Splitter is a powerfull video editing program that can cut and save a region from any video file, Split the movie file into two parts at a certain scene and save them as two movies, save any frame as an image. and much features.

---
818) WinASO Registry Optimizer 4.0.5
Speed-up your System. WinASO Registry Optimizer repairs Windows registry problems with a few mouse clicks. Scanning and clearing the history of the use of programs and applications in your system

---
819) Tracking Manager 2.2.5
Tracking Manager Program - Stores UPS, USPS, FedEx and Airborne Express tracking Numbers.

---
820) FastSplit Gold 2.5
Use FastSplit Gold to backup large files to fit on any media. You can run FastSplit Gold from a window, command line or batch file. Its intuitive interface makes it very easy even for beginners to backup their work to removable media. 

---
821) HiCalendar 2.0
See an animated noodle dance to the Macarena.

---
822) WinGate 5.2
The solution for Internet sharing software.

---
823) Fast Document Viewer 1.75
View any MS Excel, MS Word, Lotus, QuattroPro file No any external libraries required (no MS Office, no ODBC, no ADO) and you may run this tool on PC without any additional install. All MS Excel, MS Word, Quattro Pro, Lotus 1-2-3 formats supported

---
824) Quemix Utilities 2.0c
Quemix Utilities helps keep your computer running at top efficiency and speed with powerful tools to optimize system performance and diagnose, repair and prevent PC problems and crashes.

---

825) File Append and Split Tool 1.0.0
Split and append files of all types and sizes; up to 16 million terabytes. Splits large files so they can be copied onto CDs, DVDs, etc. or sent via email. Choose output file size, media, or number of pieces. A simple concept executed to perfection.

---
826) CSJami Minicom Pro 5.4.0.0
Easily take control of remote PCs with Minicom over LAN dial-up or Internet connections. Screen file manager and finder Time Center audio and video routers shutdown internet connect clipboard exchange phone etc...

---
827) Flash File Recovery 5.2
Need a sure solution for recovering lost, corrupted or accidentally deleted photographs? Flash File Recovery is a 100% risk-free application that salvages images from digital cameras or flash memory cards. See recovered images first, pay later.

---
828) Diskeeper Home Edition 10.0
Diskeeper 10 Home Edition is the easy, most cost-effective way to keep your PC running like it did when it was new, without the need for slow, time-consuming manual defragmentation.

---
829) PC Error Eliminator 2007.1296
ErrorSWEEPER will go to work fixing your computer's errors, restoring your registry, increasing the speed, performance and the stability of your computer. we guarantee it! Turbo-charge your system speed with a click of your mouse. - FREE DOWNLOAD

---
830) User Management Resource Administrator 7.2
Use the flexibility of scripting without requiring the effort or knowledge. Perform advanced user management tasks for NT and Active Directory such as automated user creation, mass assigning Microsoft Exchange mail boxes, or set folder permissions.

---
831) EMCO Acrobat Reader Deploy 6.0
EMCO Acrobat Reader Deploy is a deployment tool to multi install Acrobat Reader to NT4/W2K/Xp computers instantly from a workstation. Install kit is made by reading information from a computer with the version 6.x of Acrobat Reader installed.

---
832) TotalPDFConverter 1.01
Total PDF Converter converts pdf to text, csv or images. The advantage of this utility is that Total PDF Converter converts a current pdf file, as well as a batch of pdf files at one time.

---
833) PC Safe 3.0
This is very useful tool if you have more than one account for forums, web mail or similar web sites or applications. PC Safe features "Quick Login" feature which fills login forms in ANY web browser, password generator, password tester and more.

---
834) MemoryBoost Pro 2.5
MemoryBoost frees unused memory, making your computer run faster and more reliably. Windows lets closed programs stay in memory; that's why you have to reboot your computer to keep the performance up. MemoryBoost solves this problem.

---
835) APrintDirect 5.1.3.1
APrintDirect lets you to print or save a customizable listing of the contents for any folder on your computer. Set numerous filters specifying which files you would like included or excluded. The processing of subfolders is also one of many features.

---
836) PDF Stamp (PDF Watermark) 2.0
PDF Stamp is an advanced product that enables you to stamp content into a PDF document. Besides images, texts and graphics, PDF Stamp is able to add links and notes.

---

837) Tempo 2.12
Once installed, Tempo starts automatically with Windows. To create a note double-click on Tempo icon in the taskbar. With "Type of note" you can define repetitive alarms notes. A sortable list of notes can be consulted, with access on each note.

---
838) Paragon Hard Disk Manager 8.5
Hard Disk Manager is easy, complete and reliable toolset for hard disk management: partitioning, disk imaging backup, boot management, data and system security, simple recovery. Convenient and clear interface, smart wizards. Now supports Vista!

---
839) AbpMon 2.0.1.36
AbpMon v.2.0 for Win9x/ME/NT/2k/XP can "Free RAM" on demand, Different Alerts, Reboot, Restart, Shutdown System. It graphically shows in real time most popular system wide information about Windows in compact resizable Bar window and SysTray Icon.

---
840) Family Keylogger 4.0.1.5
Family Keylogger tool benefits you by monitoring all keyboard related secret activities of external users in your absence. Keystroke capturing software easily detects all chat records, typed URL, login, password, file operations in encrypted log file

---
841) Oracle SafetyNet 1.01
A free program that will allow small and medium shops running Oracle on Windows based servers to automate the regualr backup and export of data from their databases, enabling them to recover from problems with the database.

---
842) Hide Folders XP 2.9
This ground-breaking folder hiding and protection software allows you to protect all the private information on your hard drive once and for all! Only a person who knows the password will be able to reveal hidden folders! Download FREE trial now!

---
843) Registry Medic 3.0
If so, you need a professional registry cleaner and repair tool - Registry Medic is the answer!

---
844) HDC Pop 1.0
HDC Pop is a mails analyser for Windows. It retrieves, analyses, alerts, logs, displays all your mails from Pop mailboxes. There are many customisable options available.

---
845) Visual Similarity Duplicate Image Finder 1.7.0.1
Visual Similarity Duplicate Image Finder uses advanced algorithms to find similar images in a way that a human does. Due to that fact it can find similar images even if they are in different image formats, different bit depth and image sizes.

---
846) UserMonitor for Classroom or Computer Lab 1.7
UserMonitor assists teachers, instructors or administrators. You can broadcast your screen to other screens, see screens of other users and monitor active programs on other computers. Detect unauthorized software. Write messages. Close any programs.

---
847) DLOCK2 2.01
DLOCK2 is a simple command line file encryption/decryption utility program that uses the free Diamond 2 Encryption Algorithm. Full source code included. Version 2.01 is the same as the original DLOCK2, except recompiled for the Win32 command line.

---
848) WinCatalog Standard 2.4
In general, WinCatalog is a CD / DVD catalog software, but actually it is much more. With WinCatalog you can catalog and manage disks (CD, DVD or any other), folders, files and even non-file items like books or home inventory. It is 100% FREE to try!

---
849) CSS Quick Backup 2.21
Backup utility with Windows Explorer integration. Backups are created and scheduled using the Job Wizard. A Restore Wizard is used to perform restorations. Includes File Sentry, which monitors your files and creates a backup every time they change.

---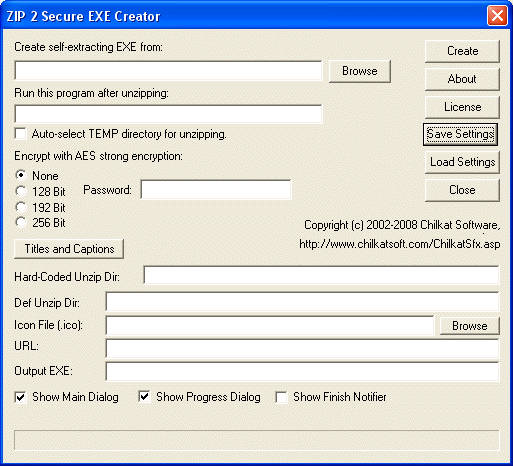 850) Chilkat Zip Self-Extractor 8.1.0
Create self-extracting ZIP files optionally with unbreakable AES encryption.

---


Browse Pages: [1] [2] [3] [4] [5] [6] [7] [8] [9] [10] [11] [12] [13] [14] [15] [16] 17 [18] [19] [20] [21] [22] [23] [24] [25] [26] [27] [28] [29] [30] [31] [32] [33] [34] [35] [36] [37] [38] [39] [40] [41] [42] [43] [44] [45] [46] [47] [48] [49] [50] [51] [52] [53] [54] [55] [56] [57] [58] [59] [60] [61] [62] [63] [64] [65] [66] [67] [68] [69] [70] [71] [72] [73] [74] [75] [76] [77] [78] [79] [80] [81] [82] [83] [84] [85] [86] [87] [88] [89] [90] [91] [92] [93] [94] [95] [96] [97] [98] [99] [100] [101] [102] [103] [104] [105] [106] [107] [108] [109] [110] [111] [112] [113] [114] [115] [116] [117] [118] [119] [120] [121] [122] [123] [124] [125] [126] [127] [128] [129] [130] [131] [132] [133] [134] [135] [136] [137] [138] [139] [140] [141] [142] [143] [144] [145] [146] [147] [148] [149] [150] [151] [152] [153] [154] [155] [156] [157] [158] [159] [160] [161] [162] [163] [164] [165] [166] [167] [168] [169] [170] [171] [172] [173] [174] [175] [176] [177] [178] [179] [180] [181] [182] [183] [184] [185] [186] [187] [188] [189] [190] [191] [192] [193] [194] [195] [196] [197] [198] [199] [200] [201] [202] [203] [204] [205] [206] [207] [208] [209] [210] [211] [212] [213] [214] [215] [216] [217] [218] [219]